Tarot in Pandemic & Revolution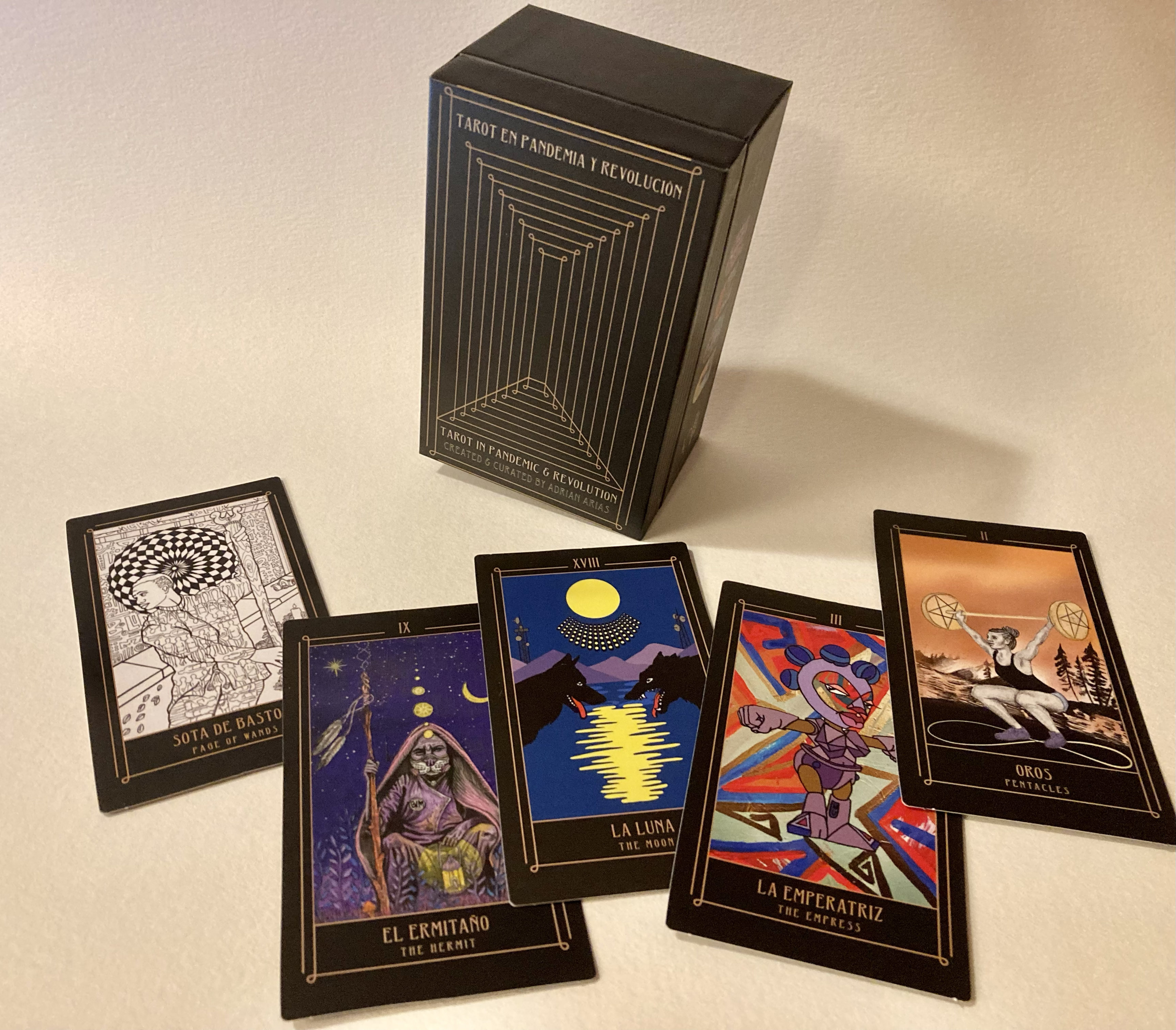 I am happy to announce that The Tarot in Pandemic and Revolution will have a great public birth on Saturday March 25, 2023 on CAST. Full information here
And you can contact me at  adrian.arias@gmail.com  if you like to buy a deck
---
Image reclaiming the power of the Indigenous Woman of the Americas
Watercolor and ink on Arches paper, 26 x 40 inches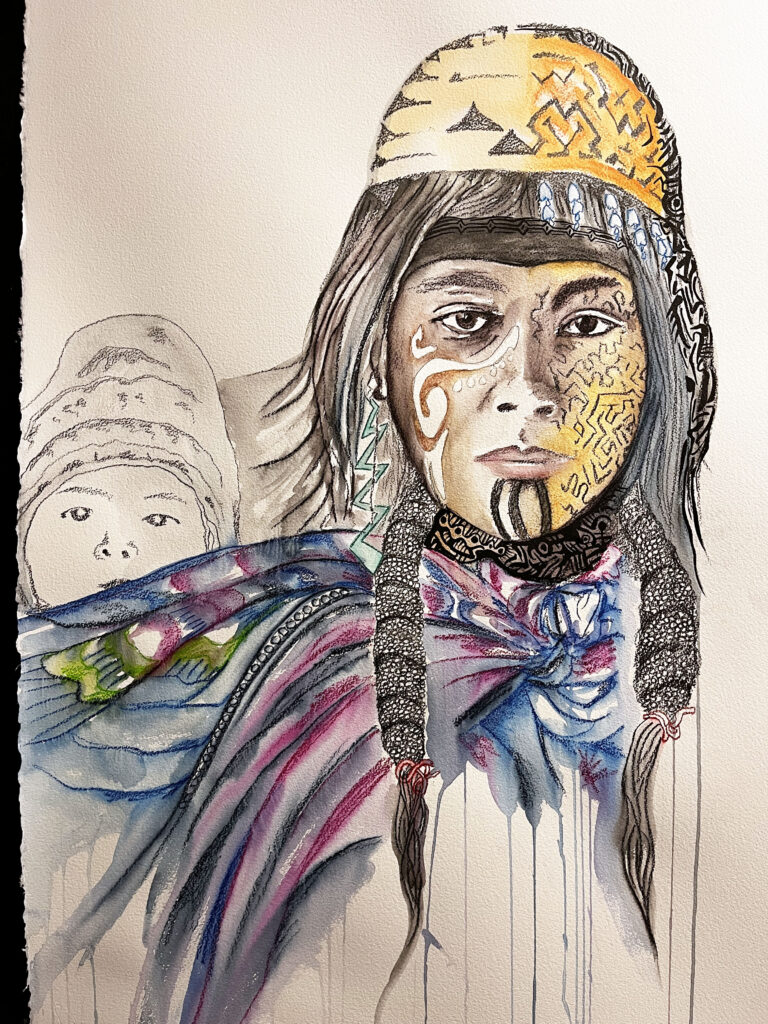 ---
New work – Pandemic Art
The New Monolith (1) -negative-. Acrylic on canvas, 30×40 inches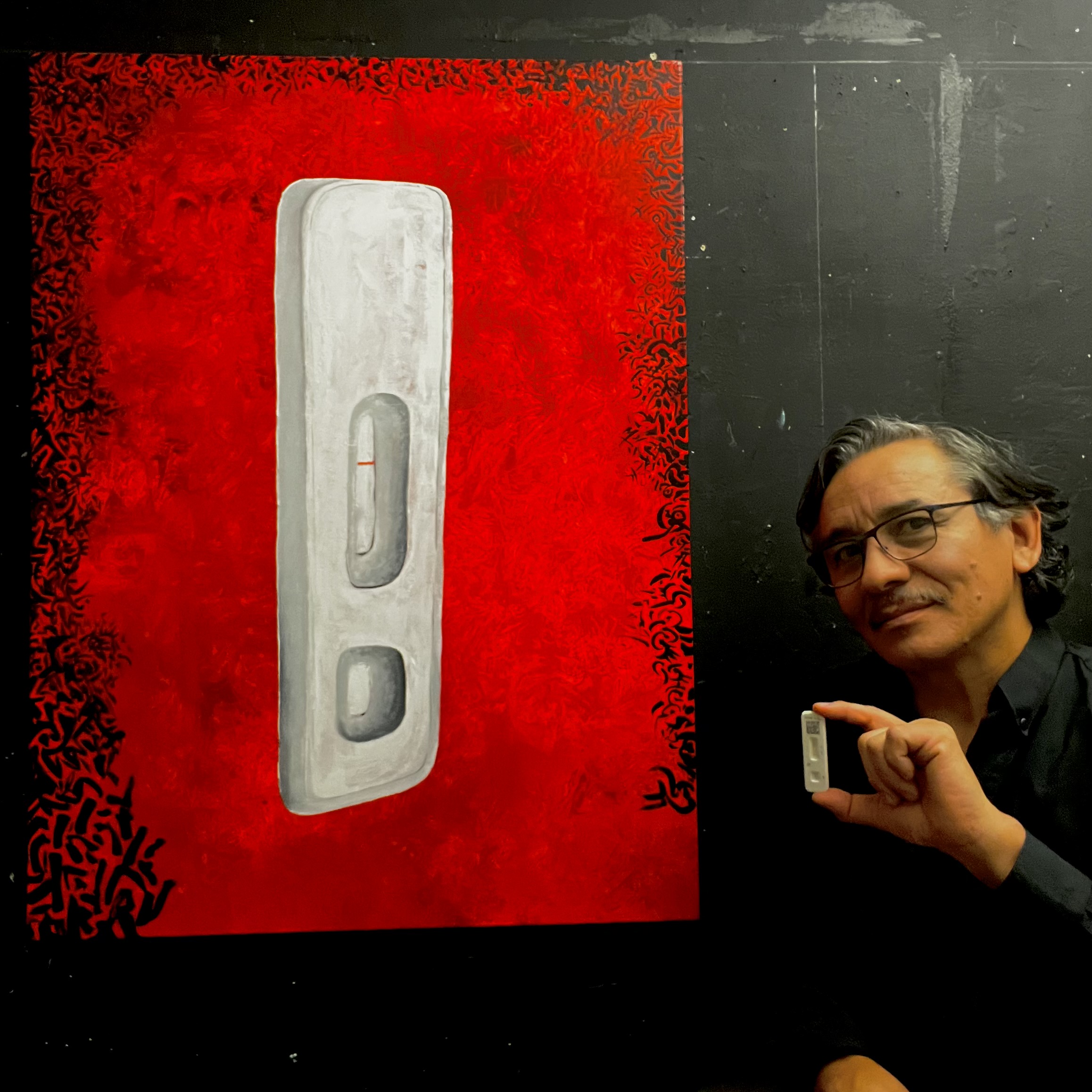 "Flooding in my used covid test cabinet, while a california golden trout streaked across the sky casting ancestral blessings". Acrylic and watercolor on Arches paper. 26 x 40 inches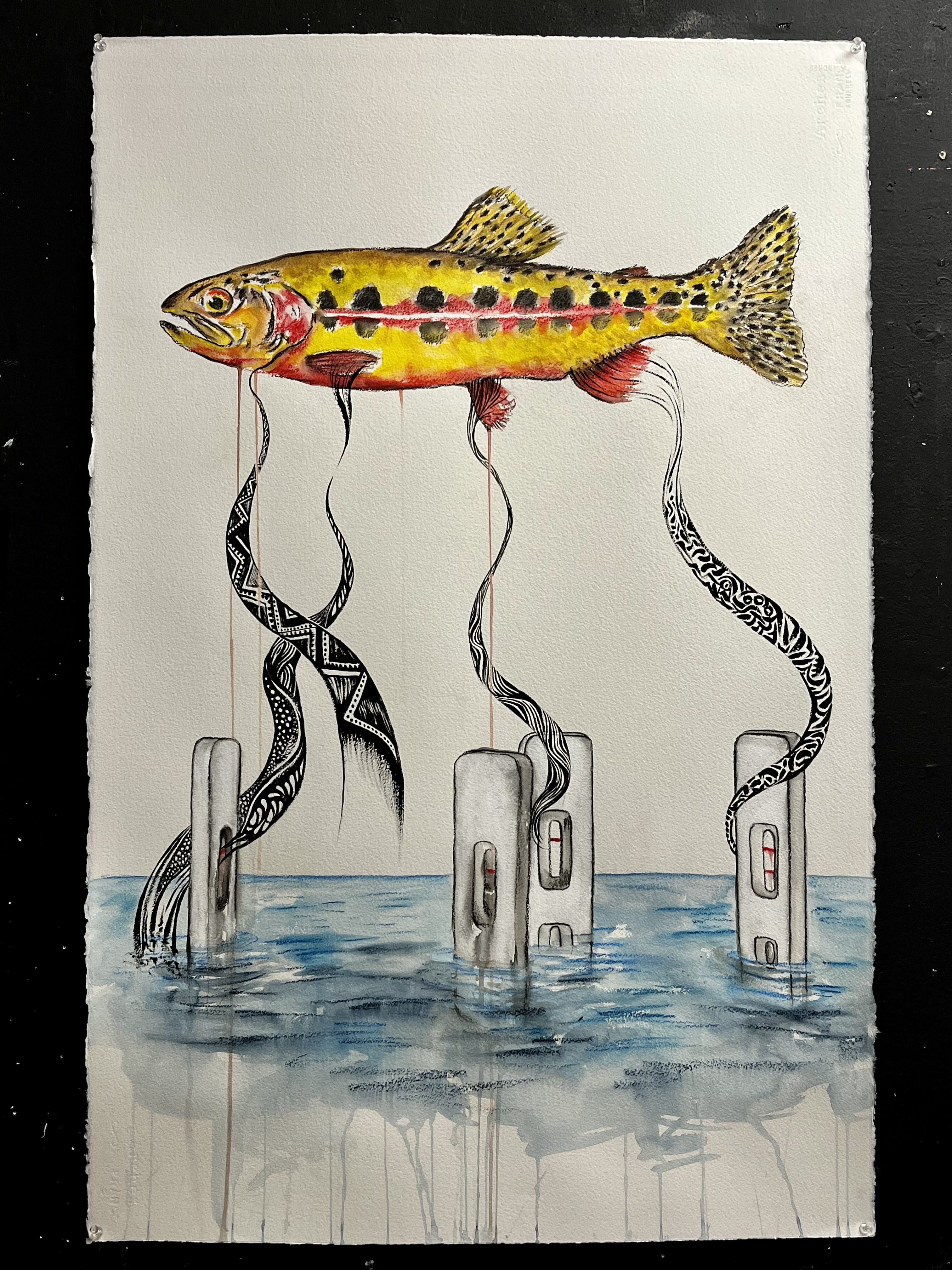 "Strange Totem from the 21st century found in an old abandoned house in the desert in a full moon night". Acrylic, ink and rainwater on Arches paper. 22.5 x 30". Acrylic and watercolor on Arches paper. 26 x 40 inches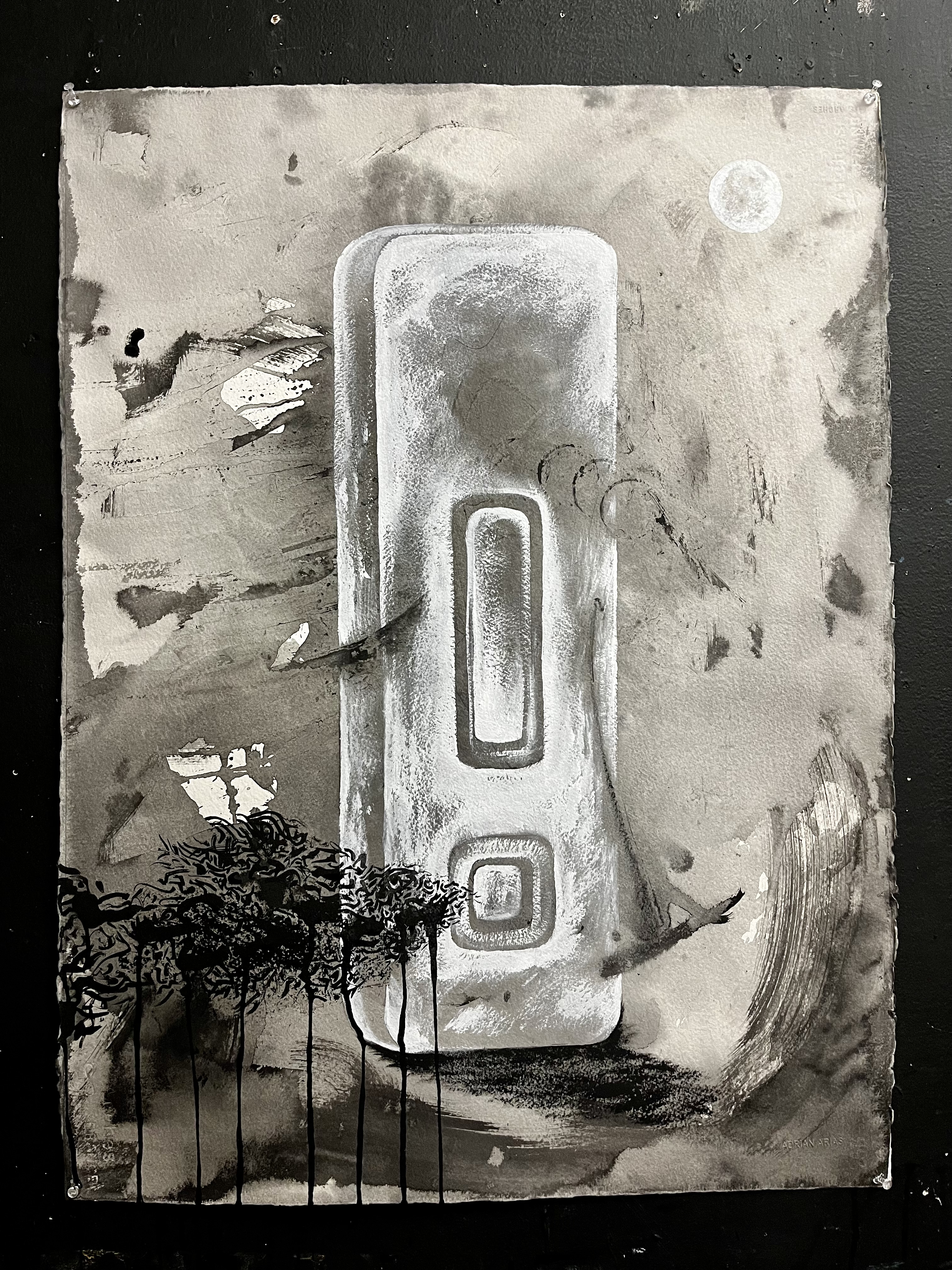 ---
Live painting at the Berkeley Museum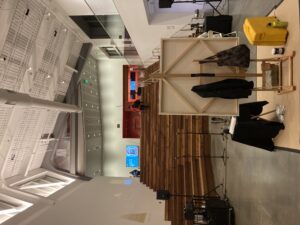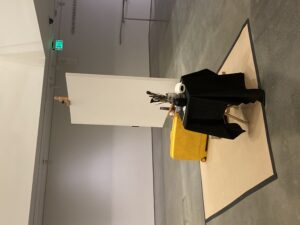 As part of the Full Long Moon celebration, and dedicated to the Tarot in Pandemic & Revolution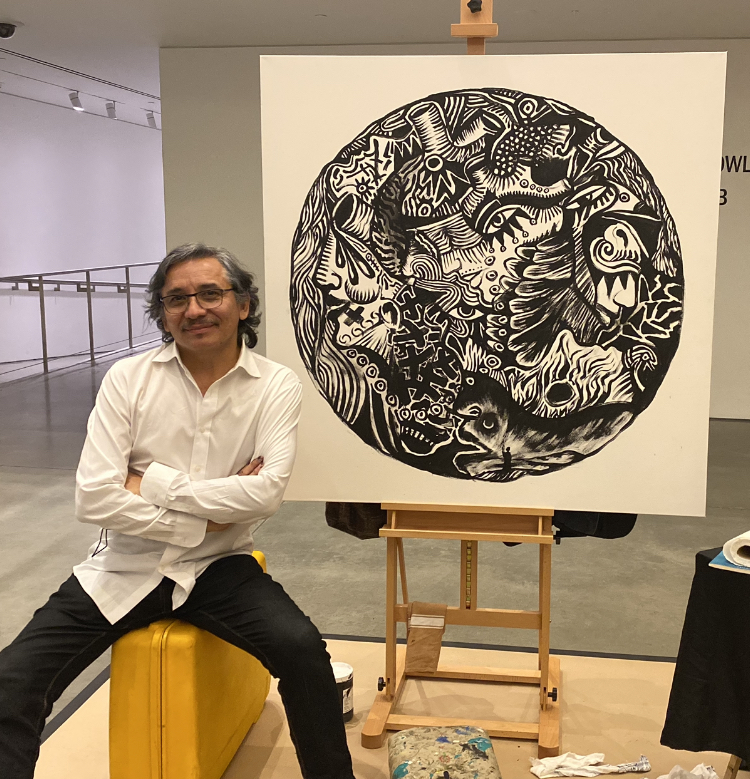 Adrian in a news article on KQED, NPR, Click HERE

---

New private mural in Lima, Peru

The image represents the birth of a bird when two people meet. The iconography and graphic images are inspired by Mochica-Chimu designs, ancestral cultures of ancient Peru, and in nature.

---

Adrian's new book of poetry

will be presented in Lima on November 29, 2022. Edited under the Peisa publishing house, and with a preface by Mario Bellatin.

---

Visual collaboration with "Archipielago", play created by Begoña Caparrós in Madrid, Spain

---

Altar Sound-installation by Adrian will be at the Exploratorium

Opening November 10, closing December 4th.

This altar sound-installation, with music specially composed by Anais Azul, was part of the Day of the Dead organized by the Marigold Project at the Potrero del Sol Park.
More images of Adrian's Día de los Muertos installations HERE

---

Adrian in new book about Artists in San Francisco, 2022
I am very grateful to be a part of this book edited by Shizue Seigel with 16 pages of my multidisciplinary art.

If you want to buy it go to this LINK

---
MURALS

"River to the Sky"

A mural on the corner of Turk and Hyde in San Francisco, honoring Miles Davis, Billie Holiday, the Blackhawk Jazz Club, BLM, the sacred water and rivers under the ground, the California Poppies, the Ohlone territory, my ancestral Mochica land.

Thank you

Darryl Smith

of Luggage Store Gallery and Someland Foundation

Thank you

Kasey Rios Asberry

and the Tenderloin neighborhood, Caleb, Krissy and Stella for your incredible help.

 

69 second video showing the making of River to the Sky HERE

Images from the process and the finished mural

Complete Statement and meaning of RIVER TO THE SKY

HERE

---
Mural at GOOGLE
Very proud to have been part of an Art Residency at the new Google facilities, creating a two stories four walls mural dedicated to my grandparents: Love story of Hummingbirds and Ancestors
These hummingbirds tell us a love story that made my grandparents' hearts beat on their night of love, after which my family grew like a garden, always visited by more hummingbirds. Hummingbirds are sacred messengers between life and death, between what must be transformed to stay alive.
CLICK HERE to read about the 9 selected artists and Adrian's explanation and images at the end of the article.
Official opening TBD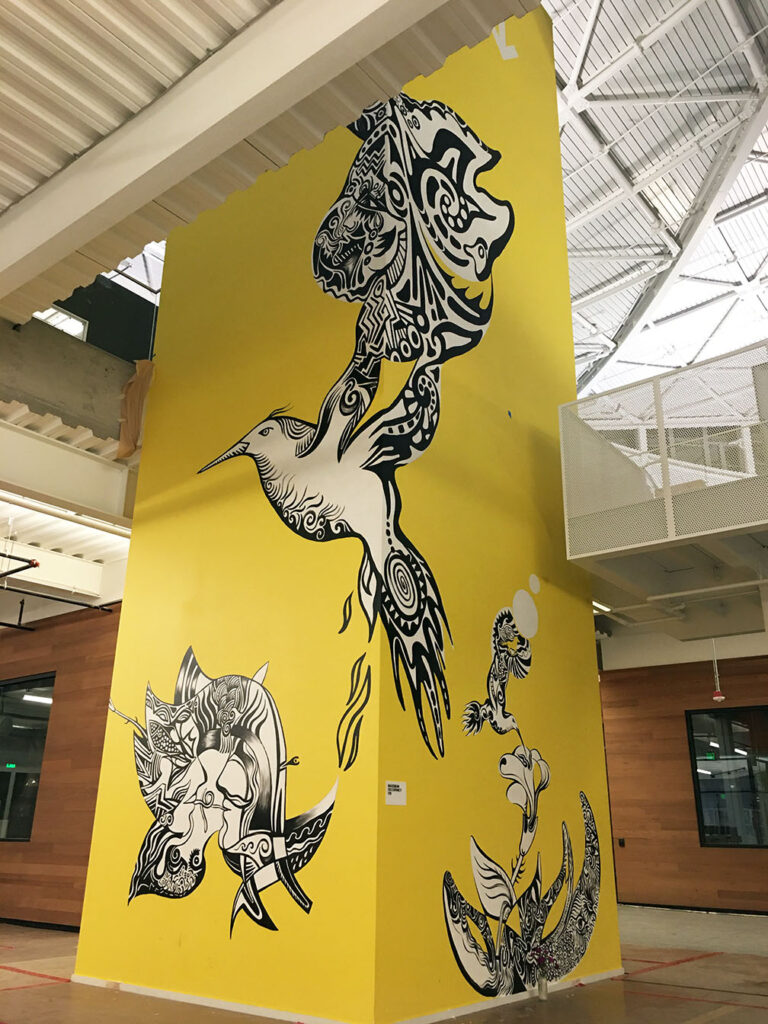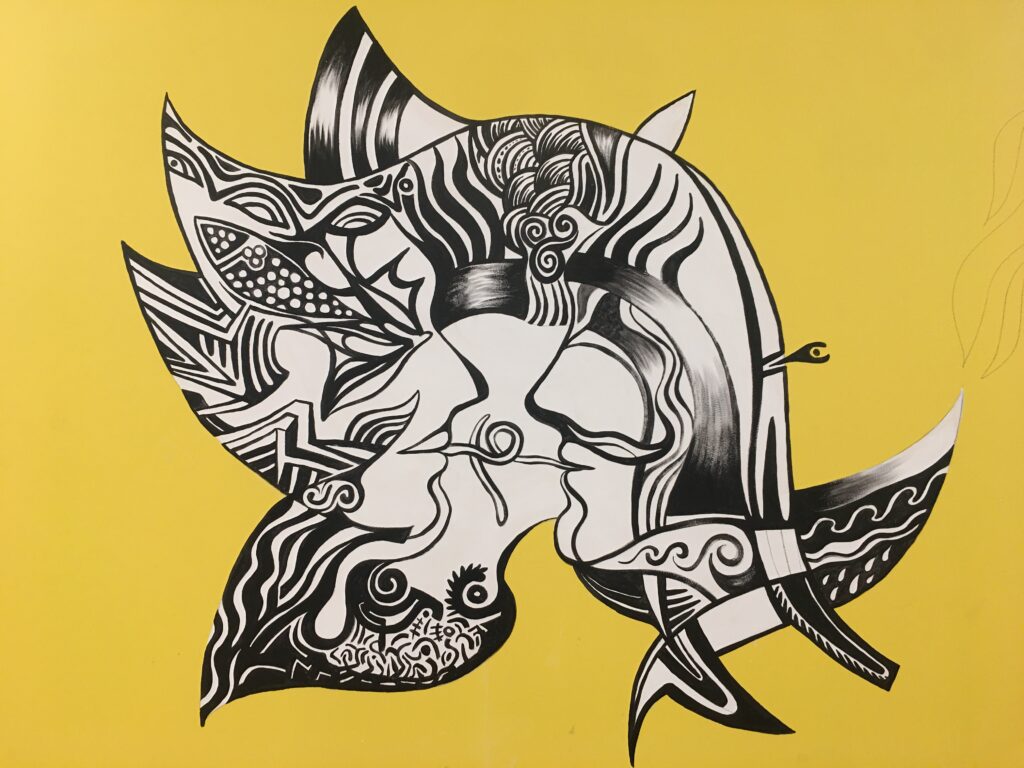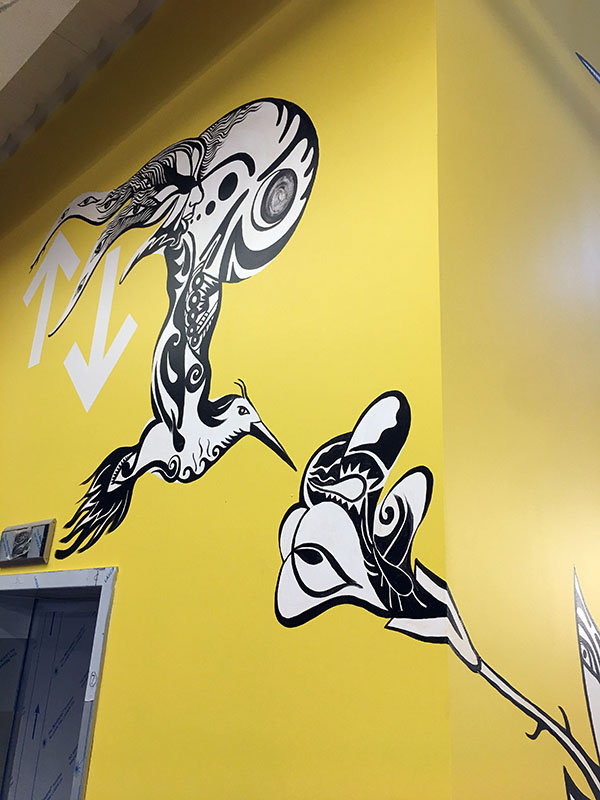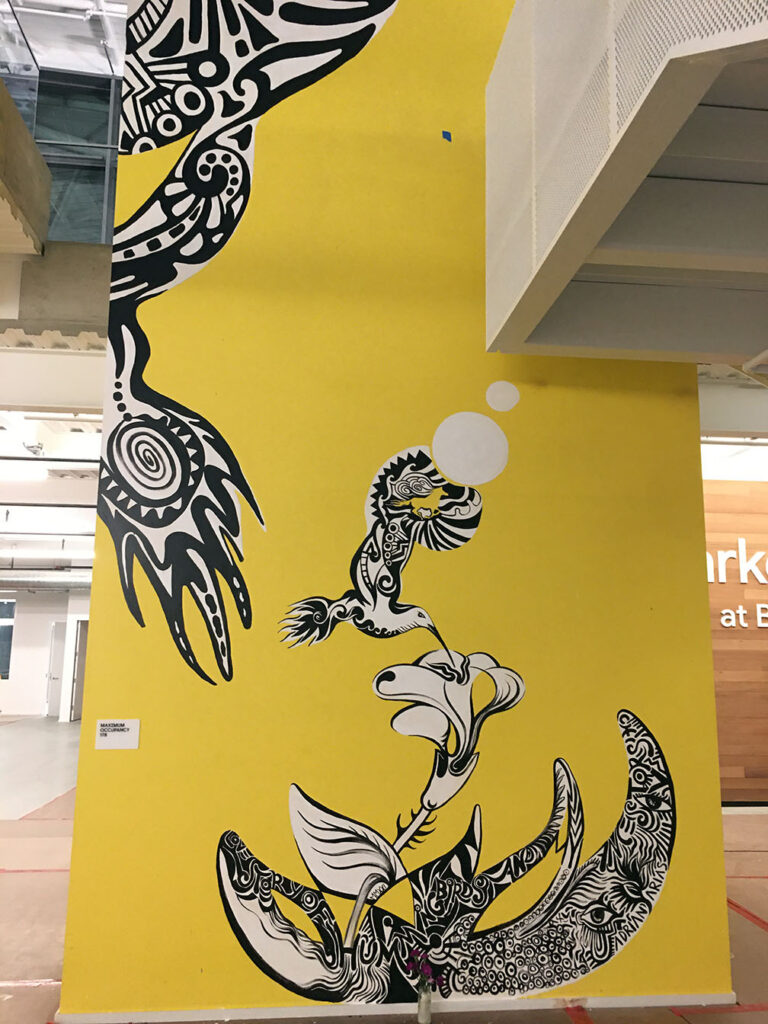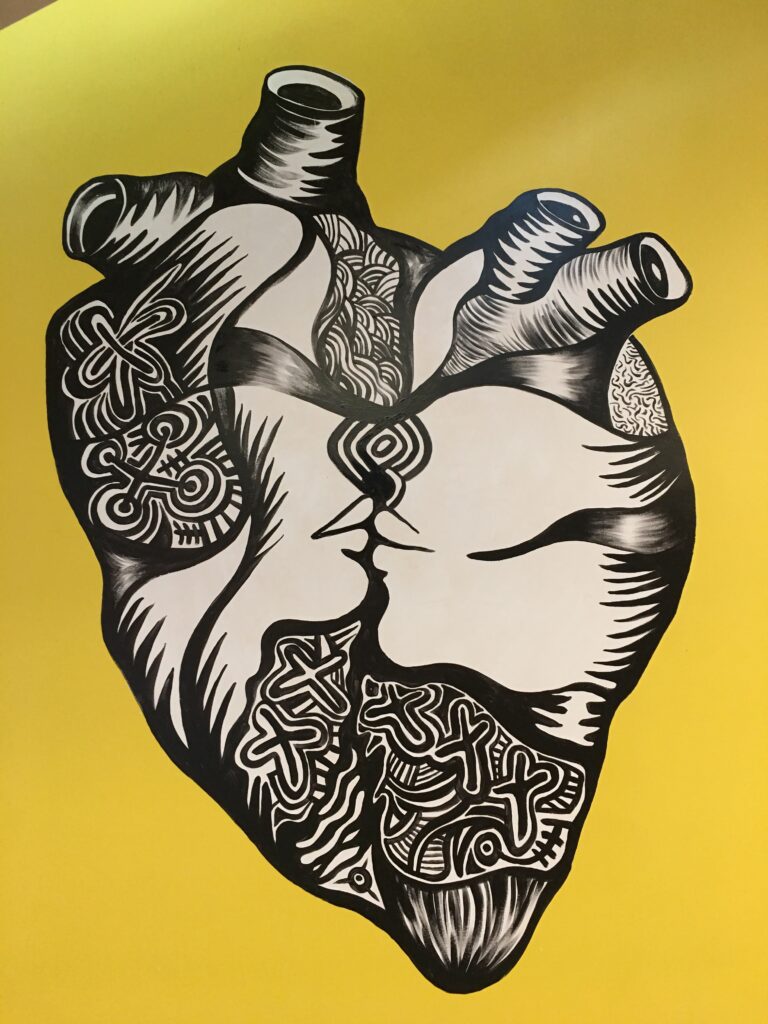 ---
New Mural @ MAGIC THEATRE in San Francisco
"Indigenous Women are not invisible"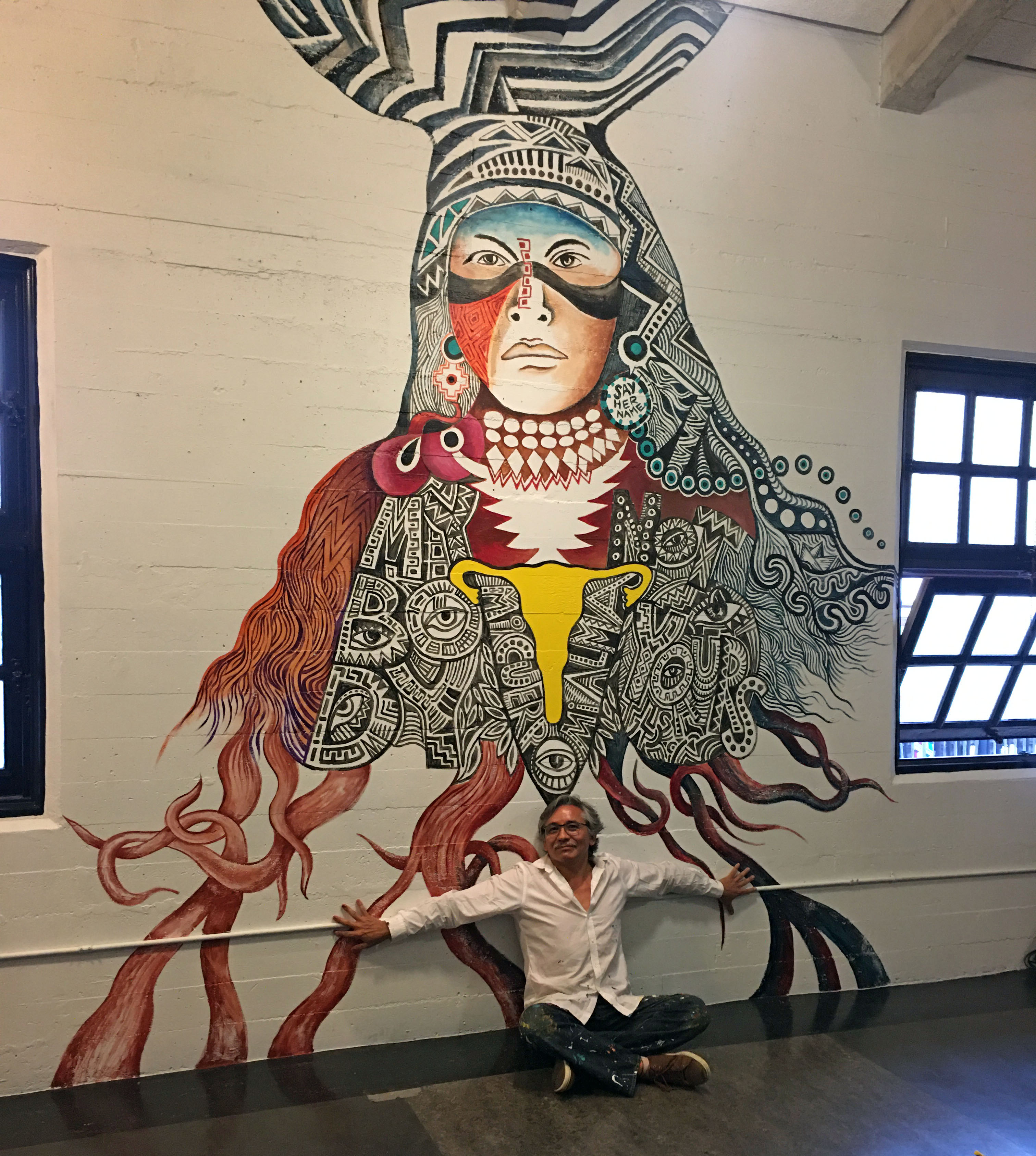 The image of this indigenous woman is based on four native women from the territory that we now call America. Woman of Mochica ancestors in Peru, my culture, mixed with Nukak Woman native to the Colombian Amazon, from which I have been inspired in her face painting. Ohlone woman, who also painted her face with that black line and other parts of her body. And Yuma and Pápago Woman from the border area between what we now call Arizona and Mexico, whose hat I have used, which is a basket, and also features of her face.
On her chest you can read "My Body Not Yours", and also in Spanish "Mi cuerpo, Mi Alma". It bears the image of the fallopian tube, as a sign that indigenous women also have reproductive rights. In her right ear she wears a "Chakana" which is an aboriginal symbol of the indigenous peoples, of what was the Tahuantinsuyo (now part of Colombia, Ecuador, Peru, Bolivia, Chile and Argentina) that is more than four thousand years old, and represents a four-sided ladder, connecting the four elements and the four directions. And in her left ear she wears an earring with the inscription "Say Her Name", which is a social movement that emerged to denounce police brutality against black Women, and in this case, it is also a claim for indigenous Women.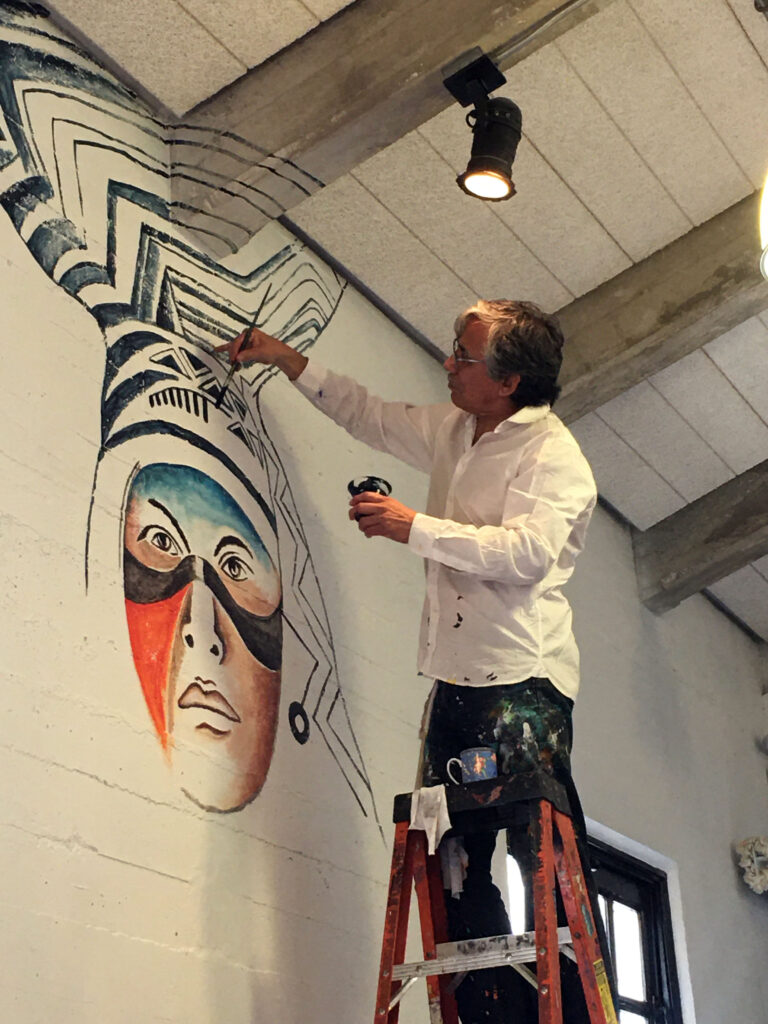 ---
"Dreams and Suitcases" ephemeral mural at The Red Poppy Art House
Adrian Artist in residence at the Red Poppy Art House. Several events and art pieces will be created at the RPAH. Here the link to see Live painting by Adrian on June 18, 2022 LINK

Mini ILLUSION show 10.1 @ Red Poppy Art House

Mini Illusion show 10.1 created by Adrian on June 4, 2022. With special guests Mara Brown, Pancho Peskador, Tongo Eisen Martin, Josiah Alderete, Lucia Lilikoi, The Genie and Monica Maria Fimbrez.

---

 TAROT in Pandemic & Revolution

24 visual artists and 43 poets from the Bay Area participating in this unique Tarot deck, whose idea came from a dream of Adrian.

You can order your deck HERE

---

Adrian in Instagram:

---

Dia de los Muertos @ SOMArts

dedicated to five human beings who lost their lives due to police brutality

---

Altar for Jack Hirschman

With tremendous pain, I am drawing this life-size portrait of Jack, unstoppable poet, friend, and mentor, who rests in the pantheon of revolutionary poets.
Jack Hirschman, December 13, 1933 – August 22, 2021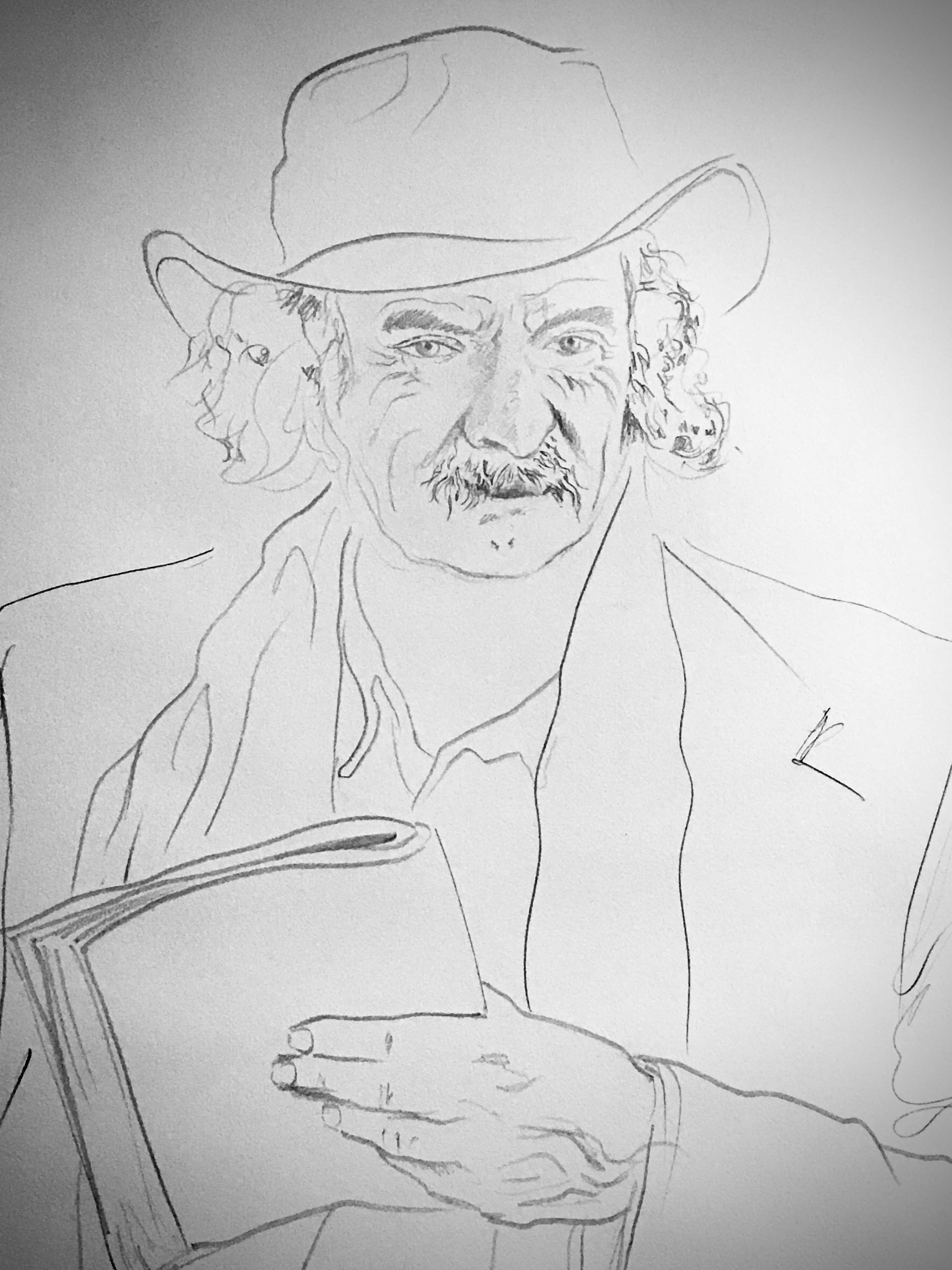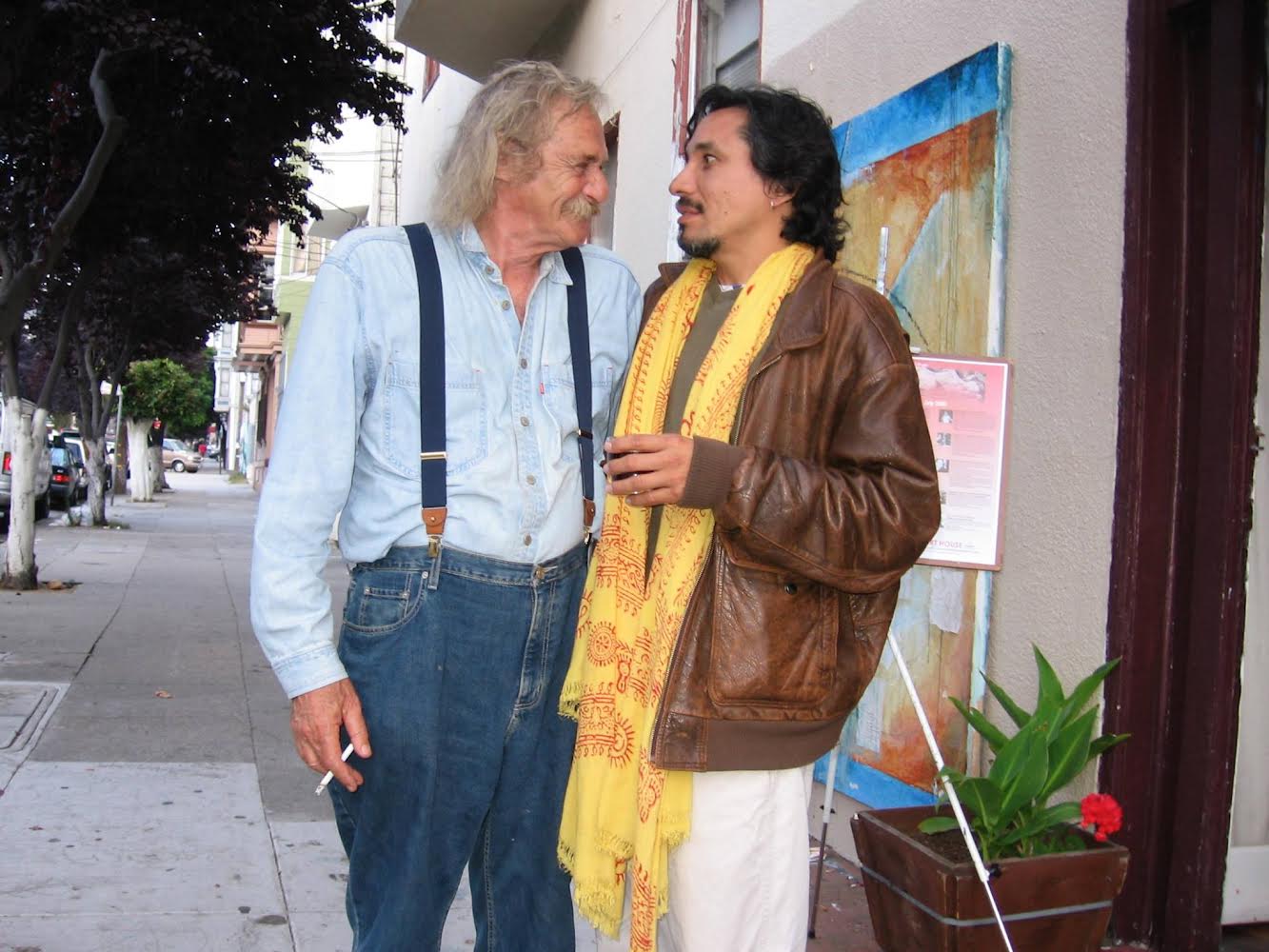 Jack and Adrián at the entrance of the Red Poppy Art House in 2004.
My first poetry reading in San Francisco was with Jack at Café Boheme in 1999
Gracias querido poeta
---
Adrian´s statement here

---
New Flower series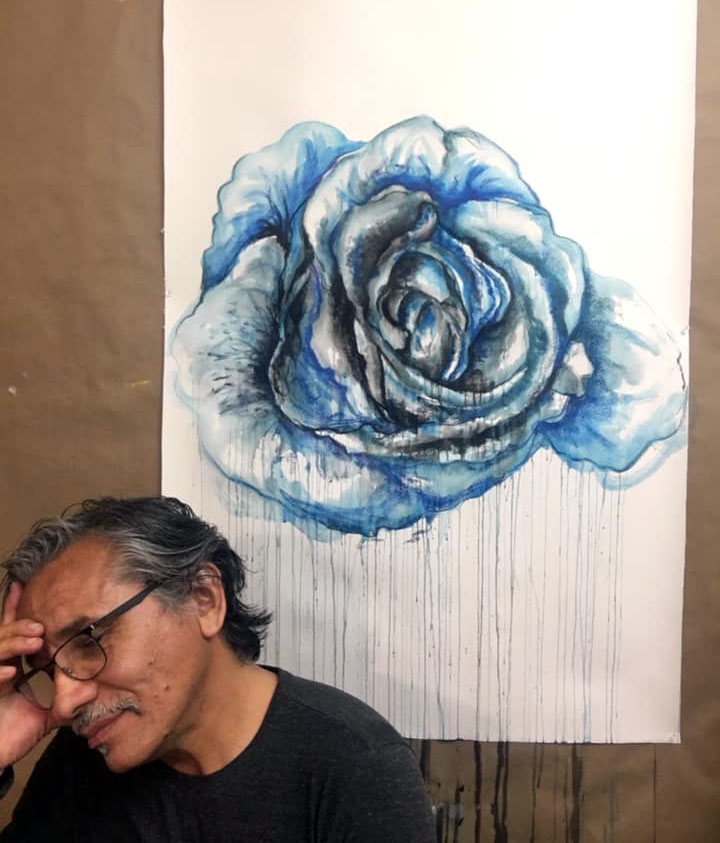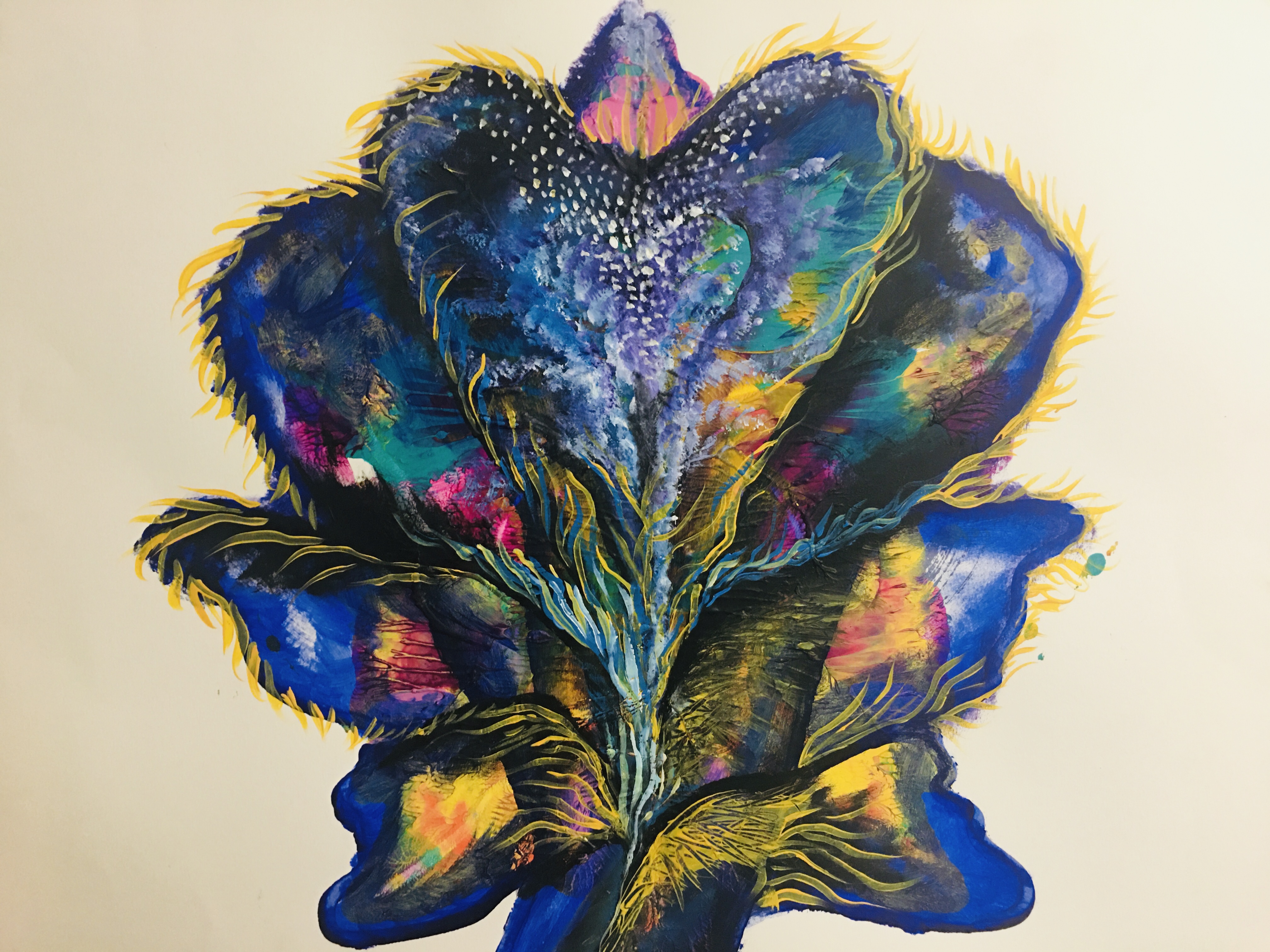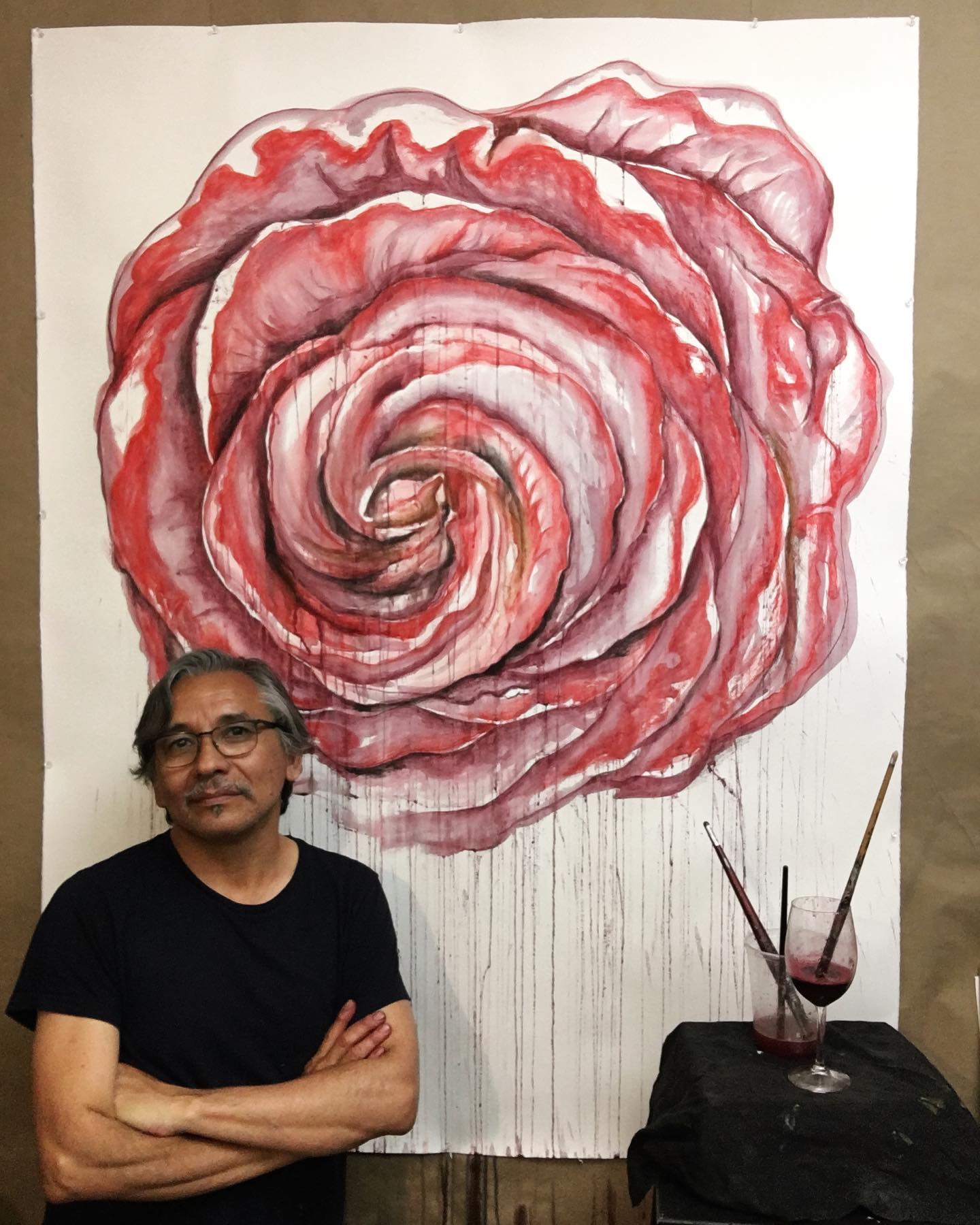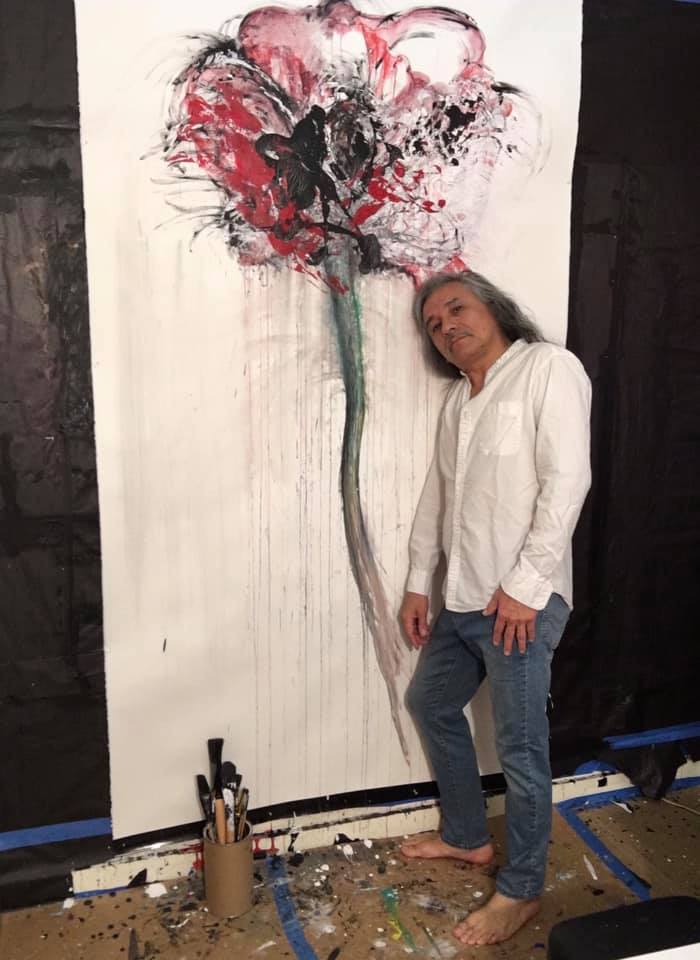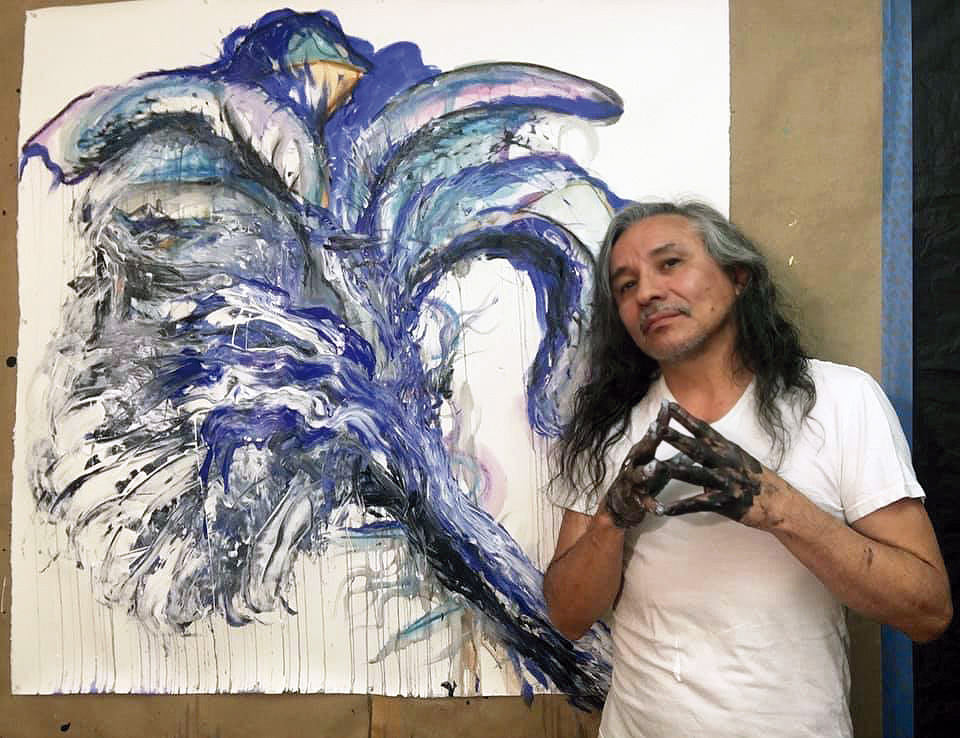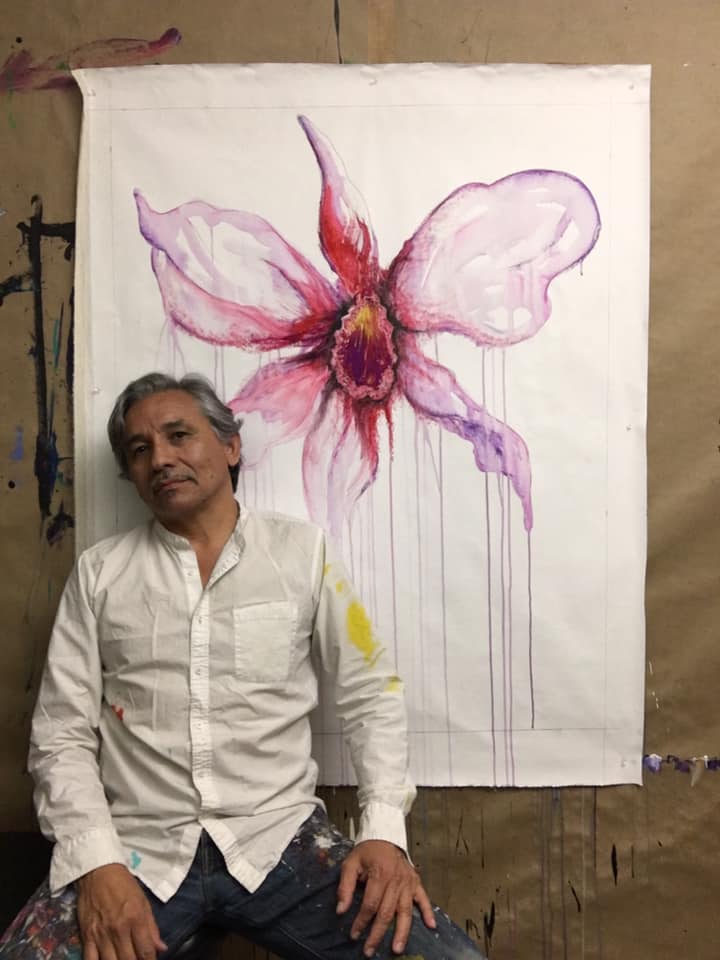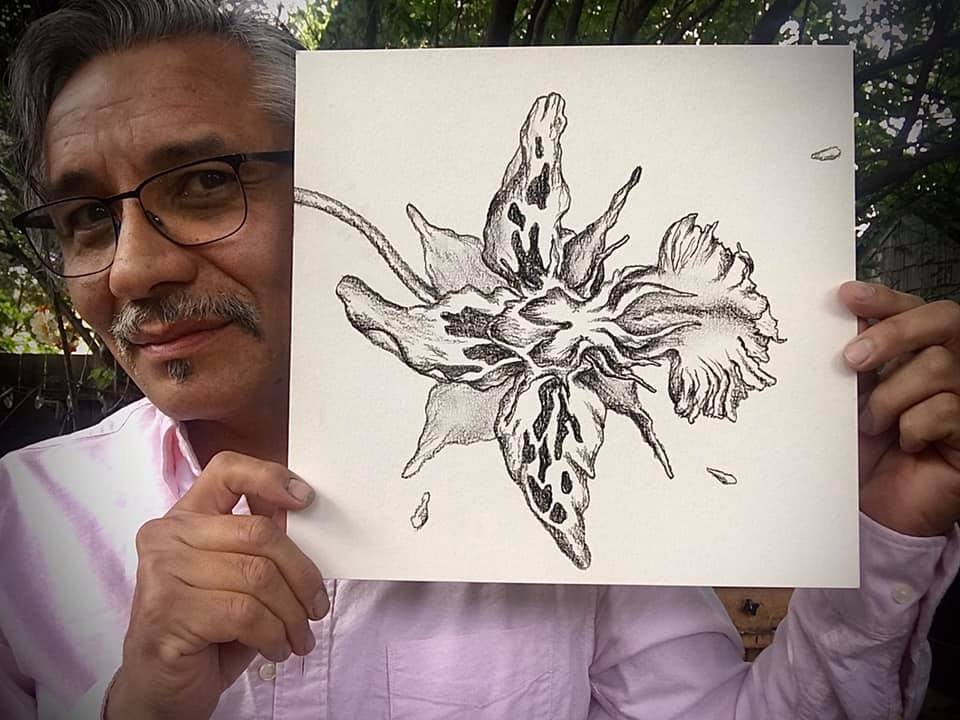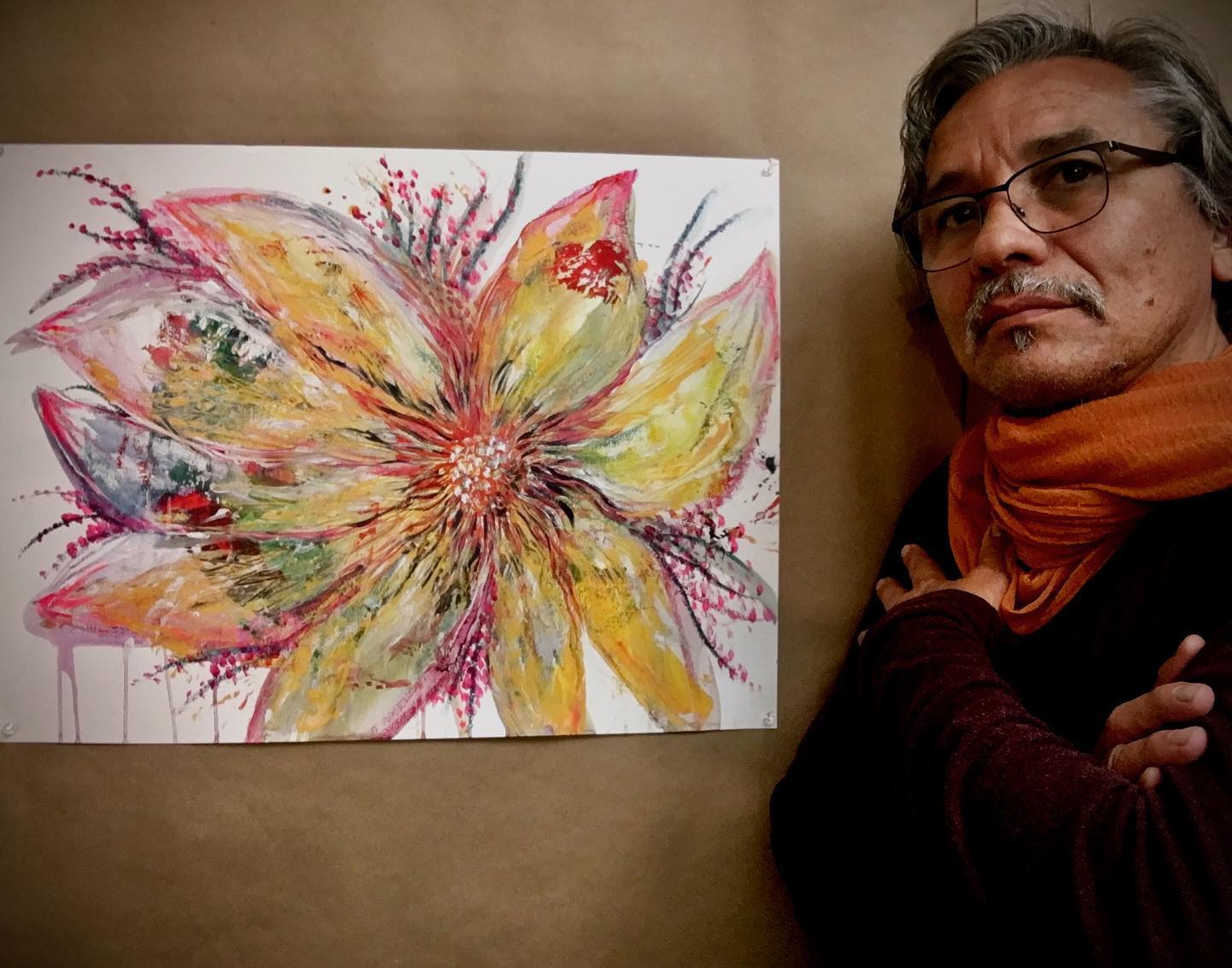 ---
Anna Halprin, teacher and friend who is always with us. Her wisdom will continue to inspire us, to create artistic spaces that help us reconcile life with the body, humanity with social justice, inner strength with the energy of our senses. Thank you Anna for everything you gave us.
Altar for Anna at MCCLA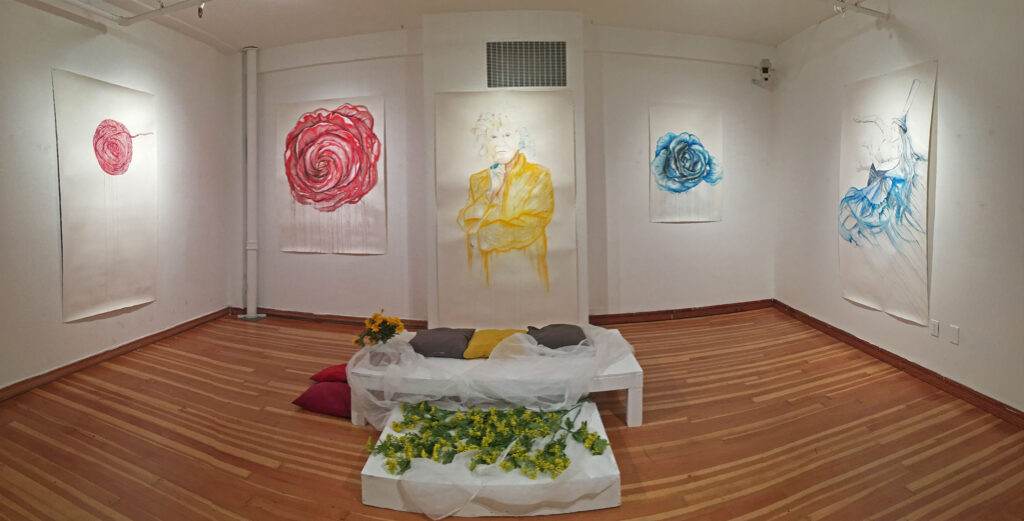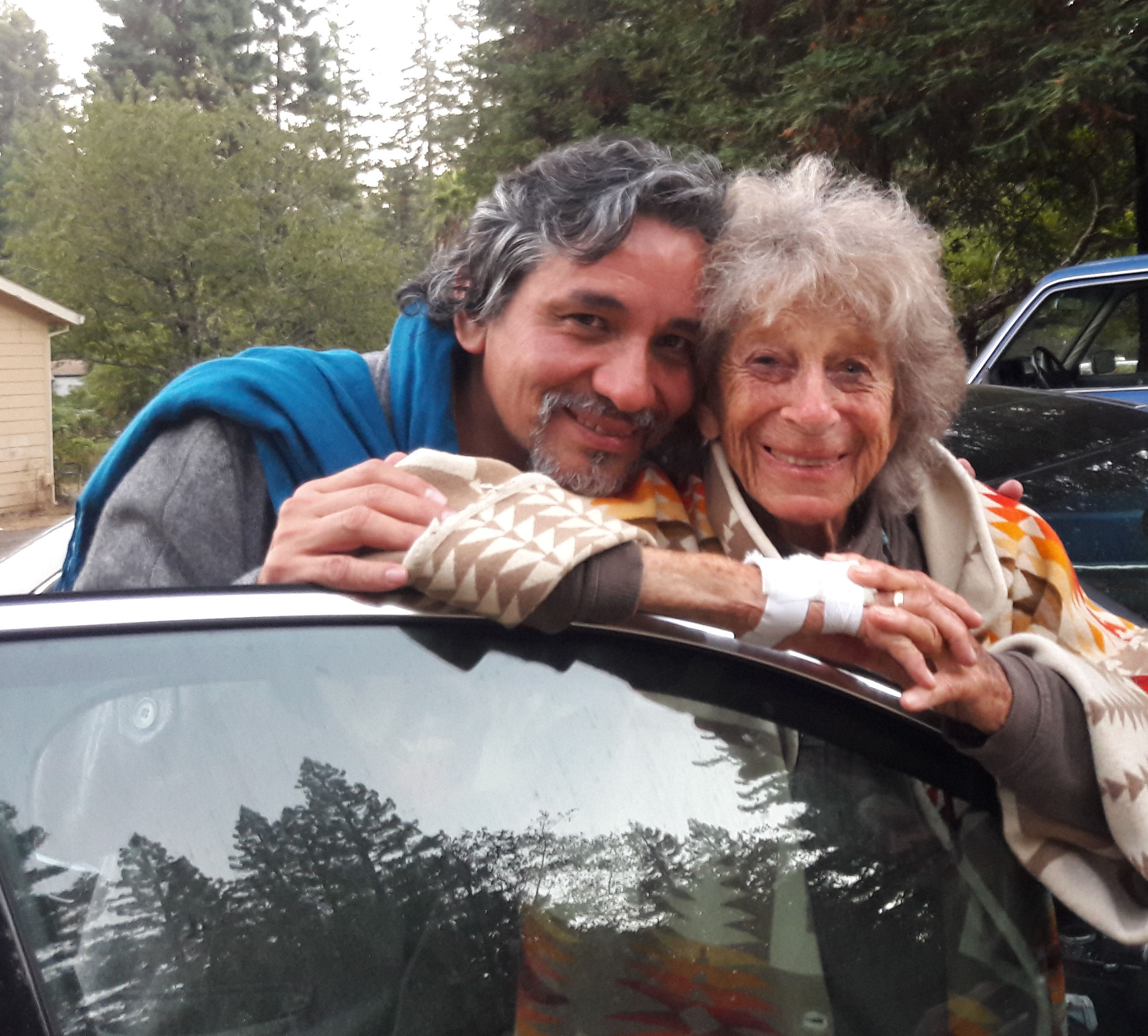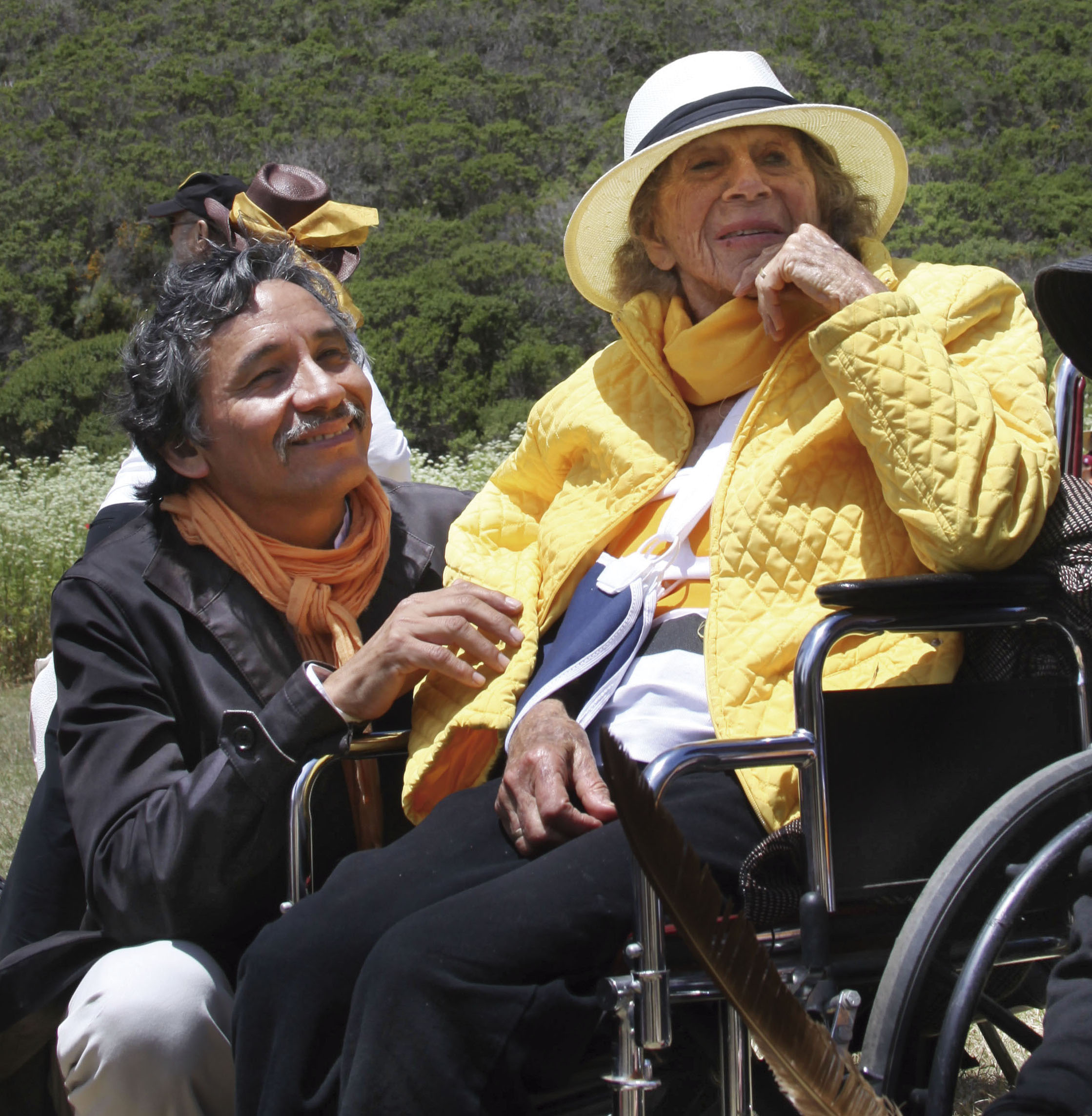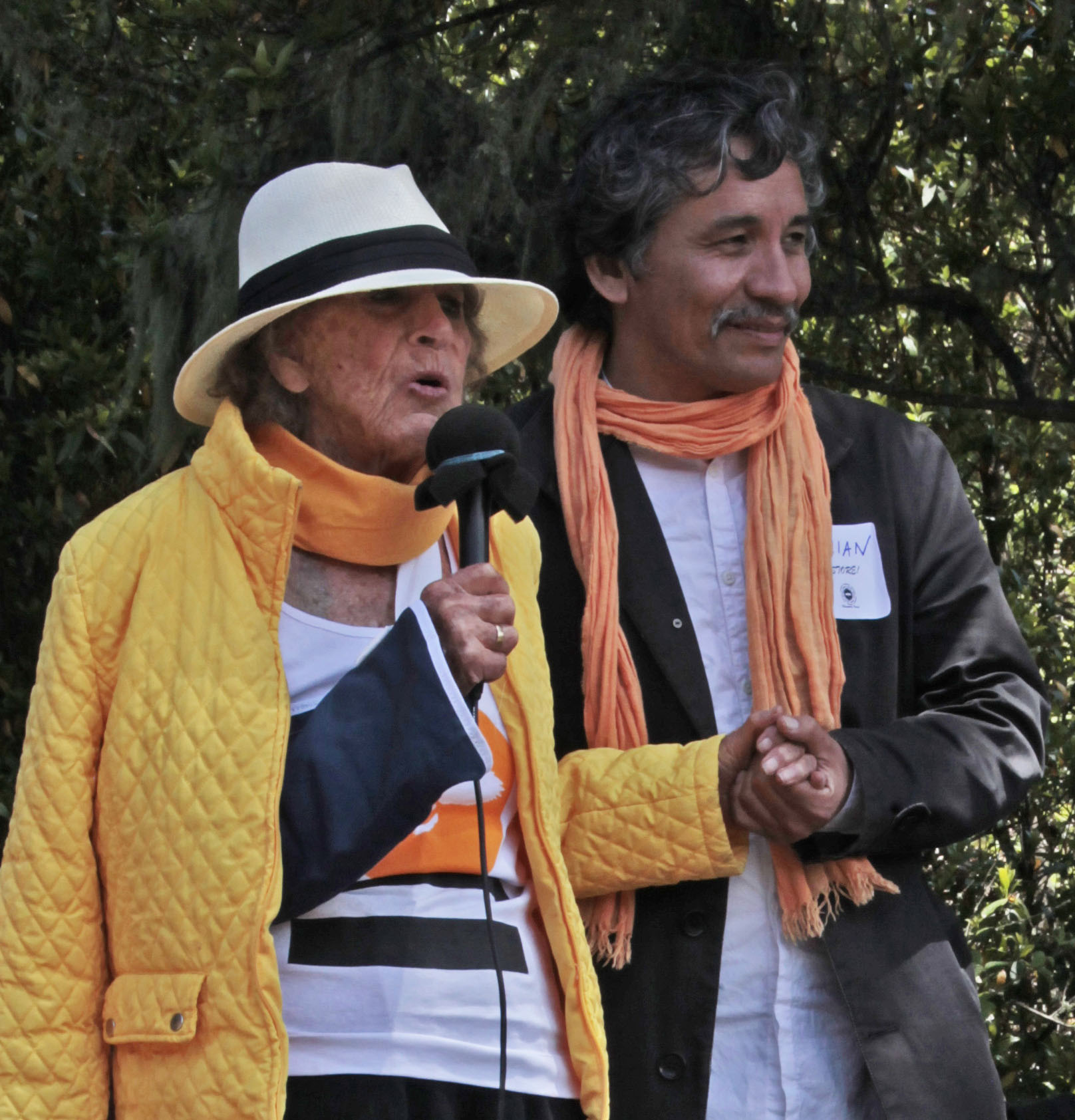 ---
Dreams-drawing series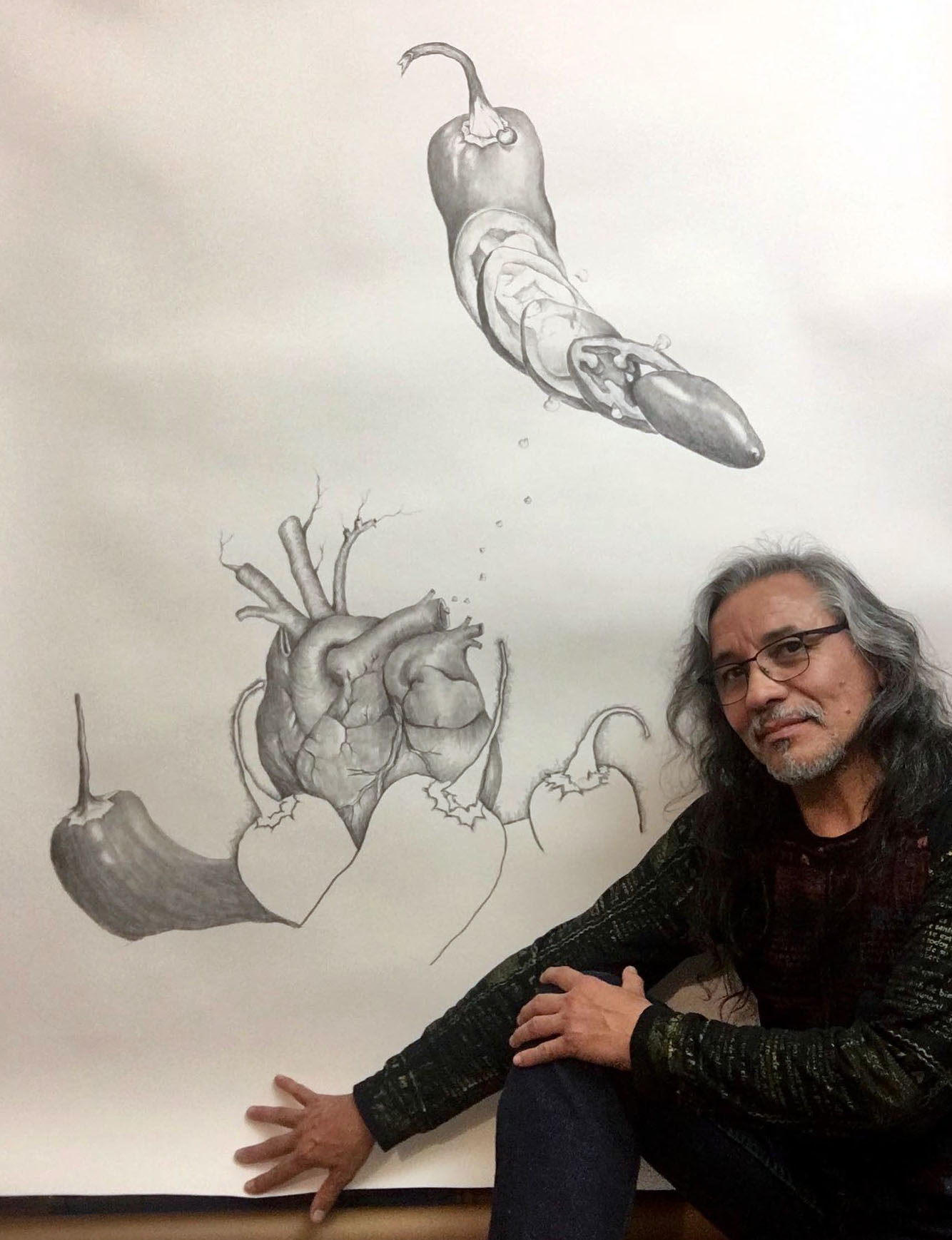 ---
Adrian last 15 minutes collaboration online with Darren Johnston in trumpet, Shania Rasmussen in dance and Amy Seiwert as producer. February 2021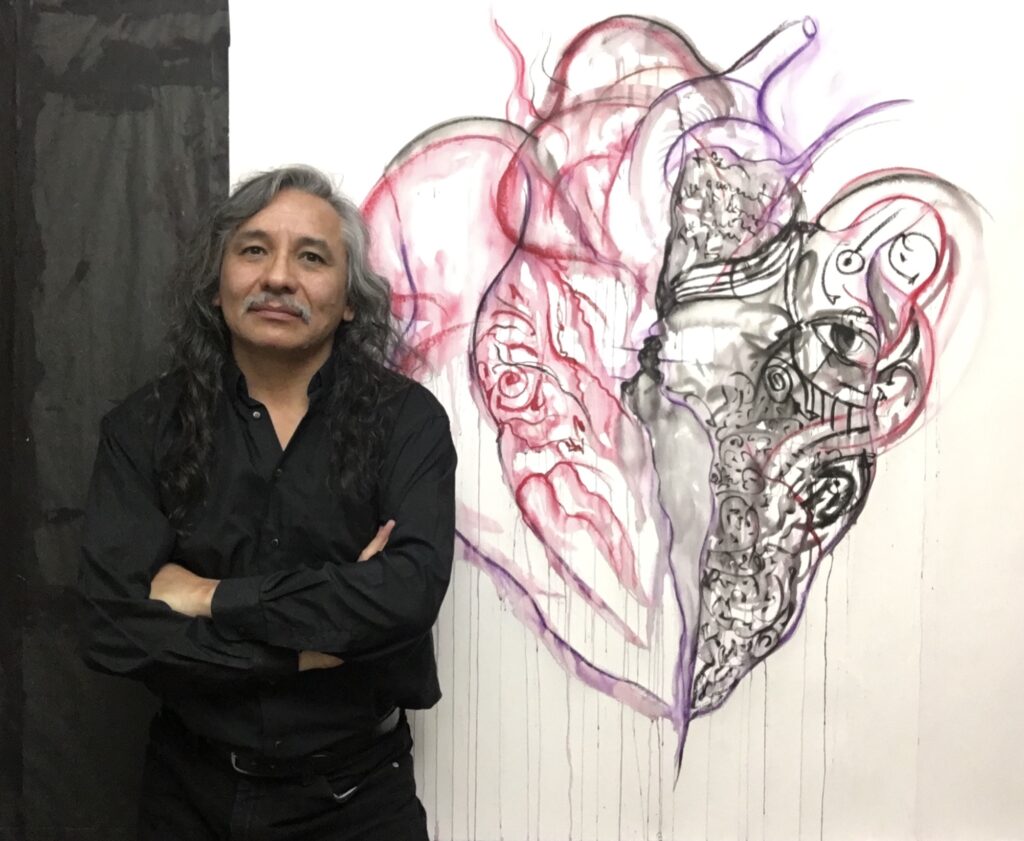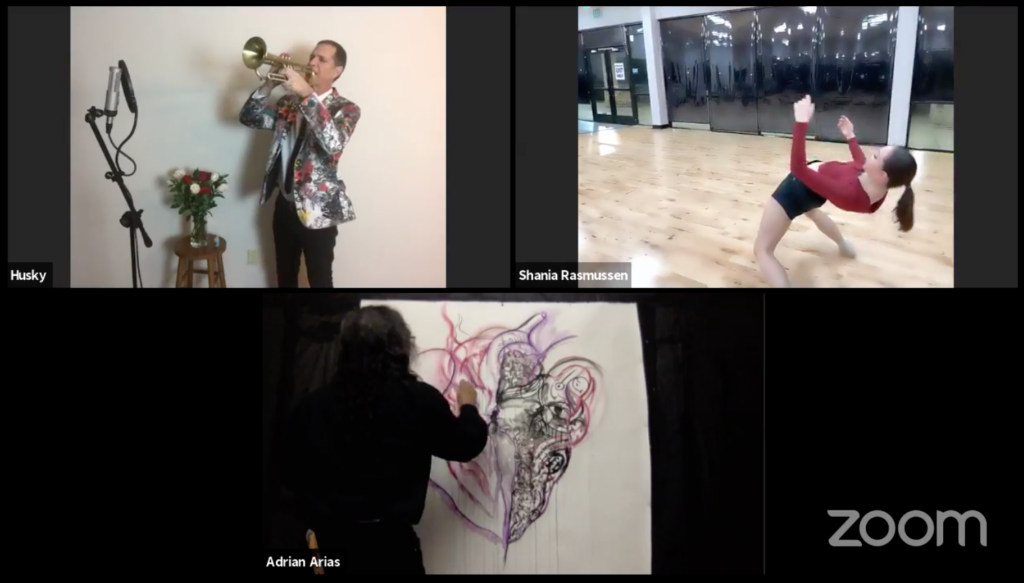 ---
"Adrian´s Art in Pandemic & Revolution" a virtual exhibition, at the Red Poppy Art House in San Francisco.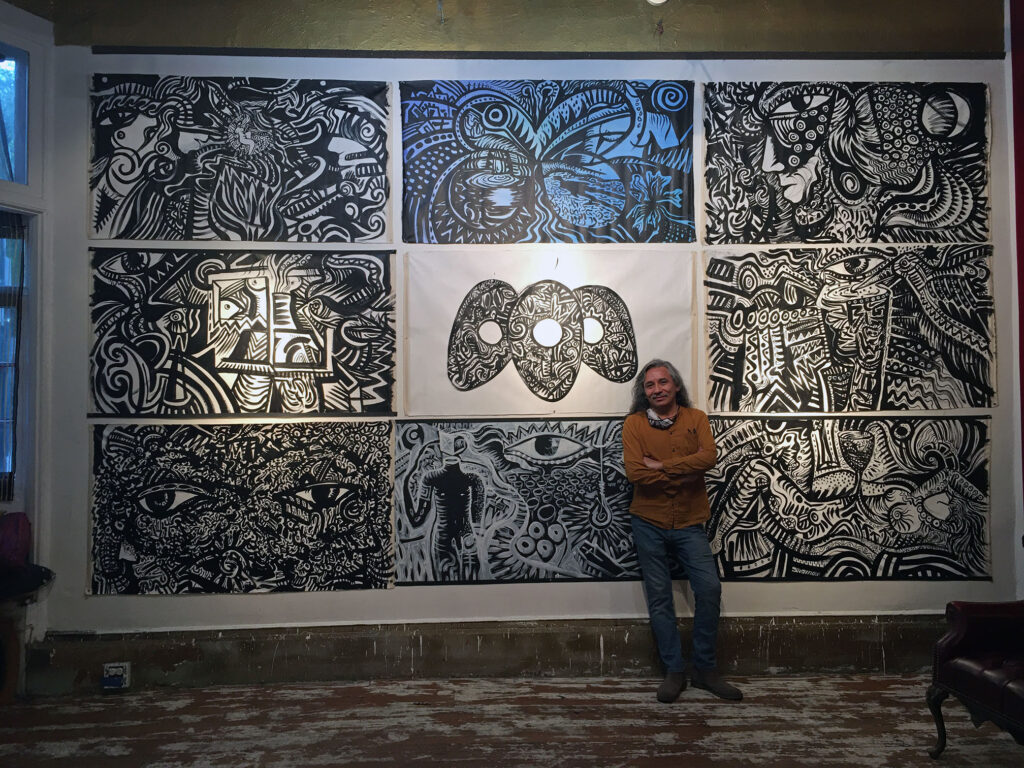 Dance and painting collaboration with Mimi Cezanne Stoll at the Red Poppy exhibit "Adrian´s Art in Pandemic & Revolution"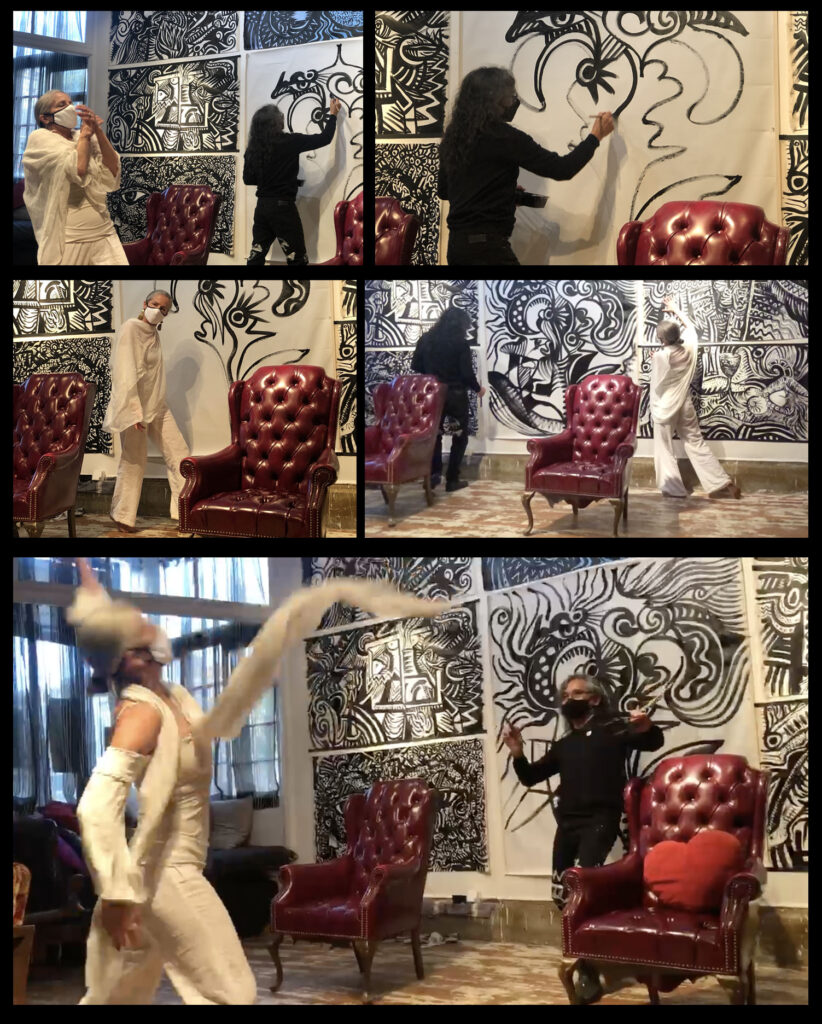 ---
Another mural at Grand Ave in Oakland, supporting local business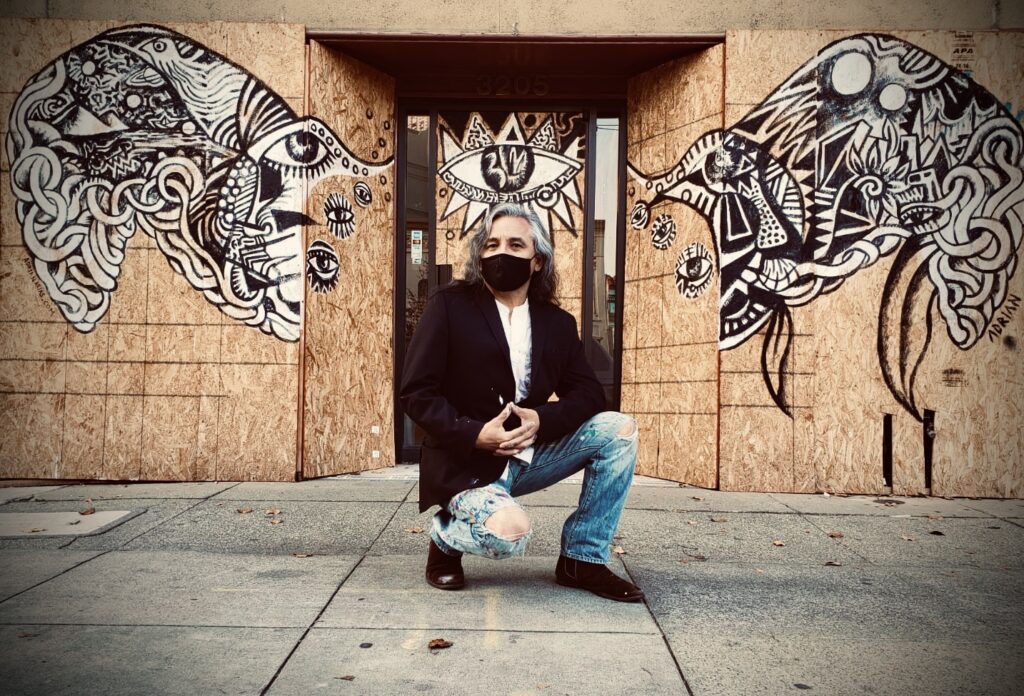 ---
New temporary murals at Lakeshore in Oakland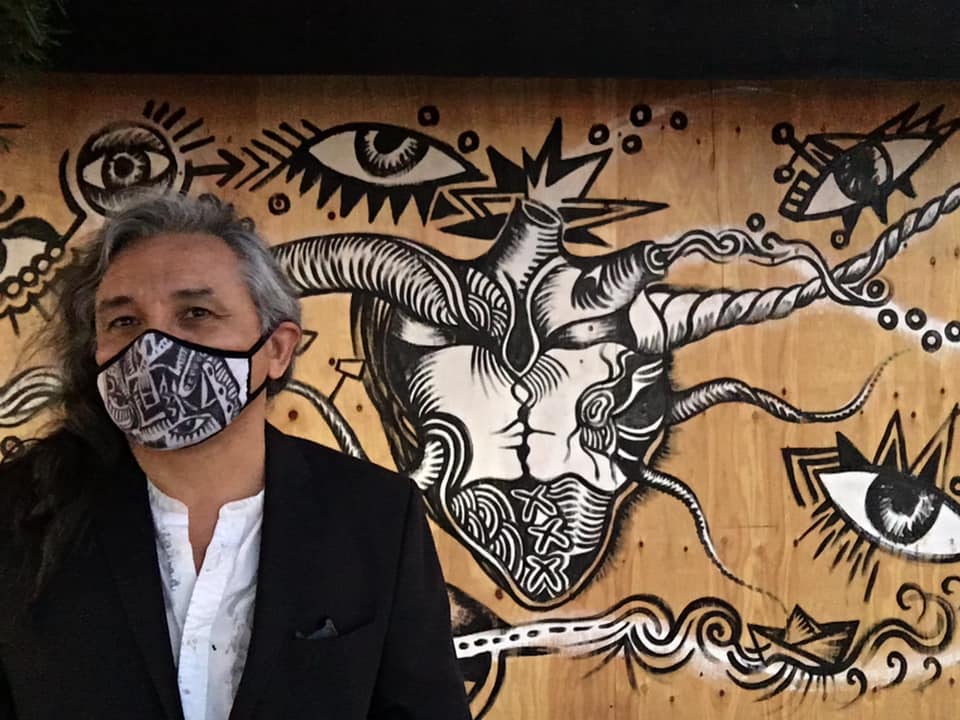 @ Good Vibrations, first sex-positive and women-friendly store in the United States, founded in 1977 by Joani Blank. In 1992 it became a cooperative of its workers and in January 2012 open its 6th store in Lakeshore Ave. in Oakland, where this temporary mural is located. As part of their recognition as a leader in sex-positive culture and education, GV received a Certificate of Honor from the San Francisco Board of Supervisors.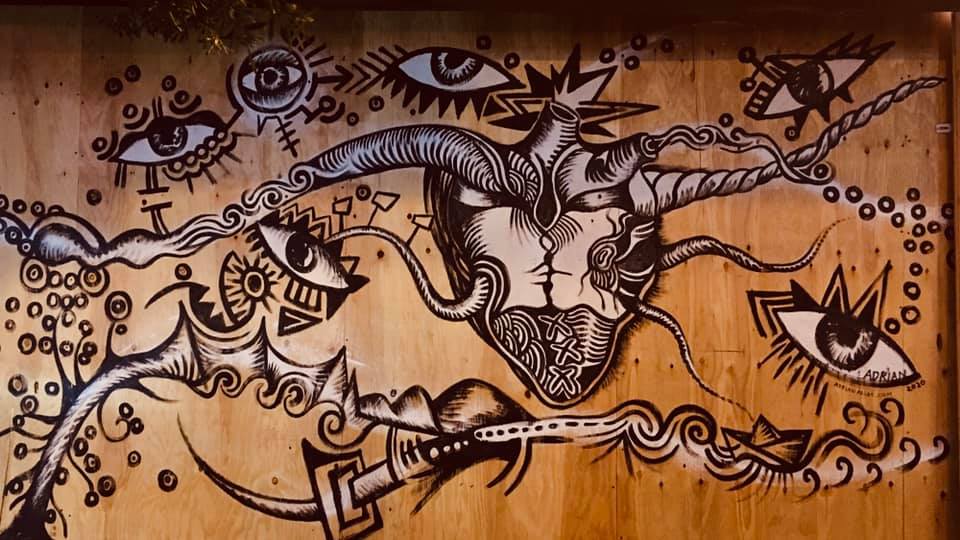 ---
Last live-performance-painting @ Machina Loci Space in Berkeley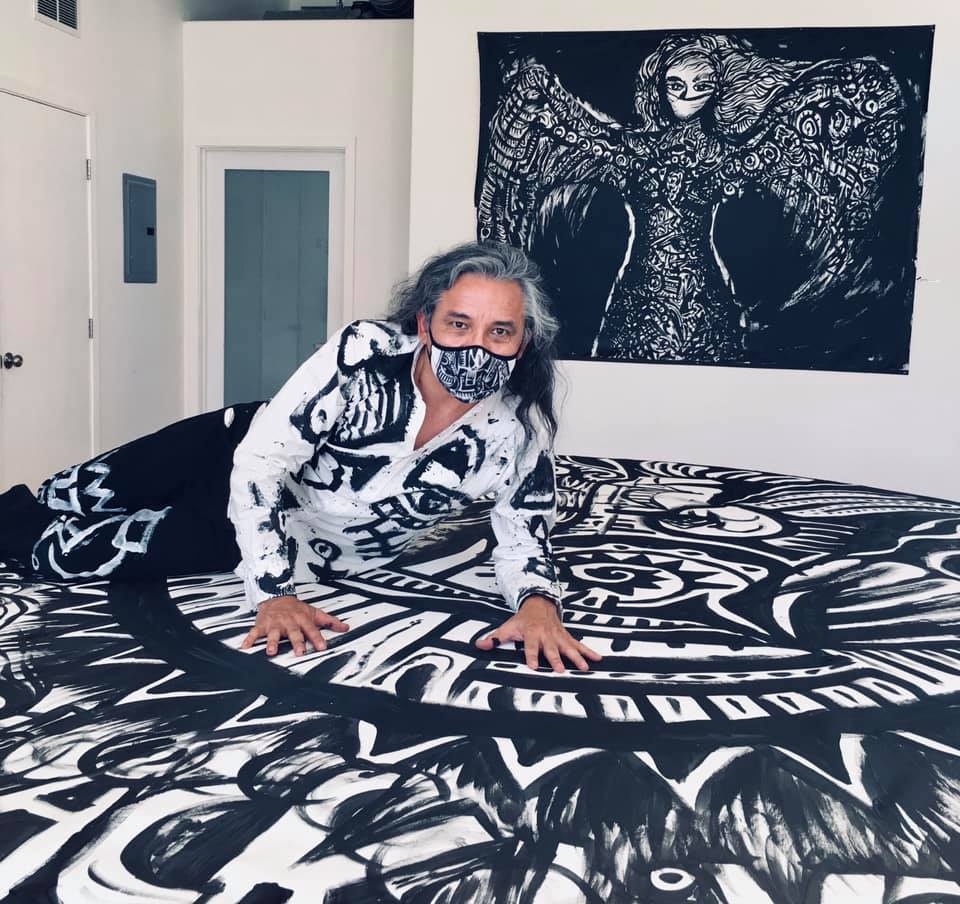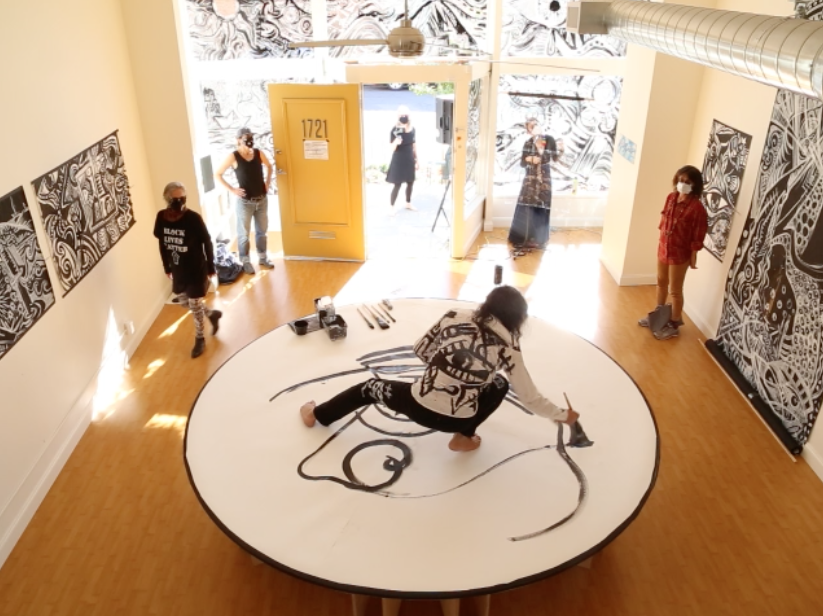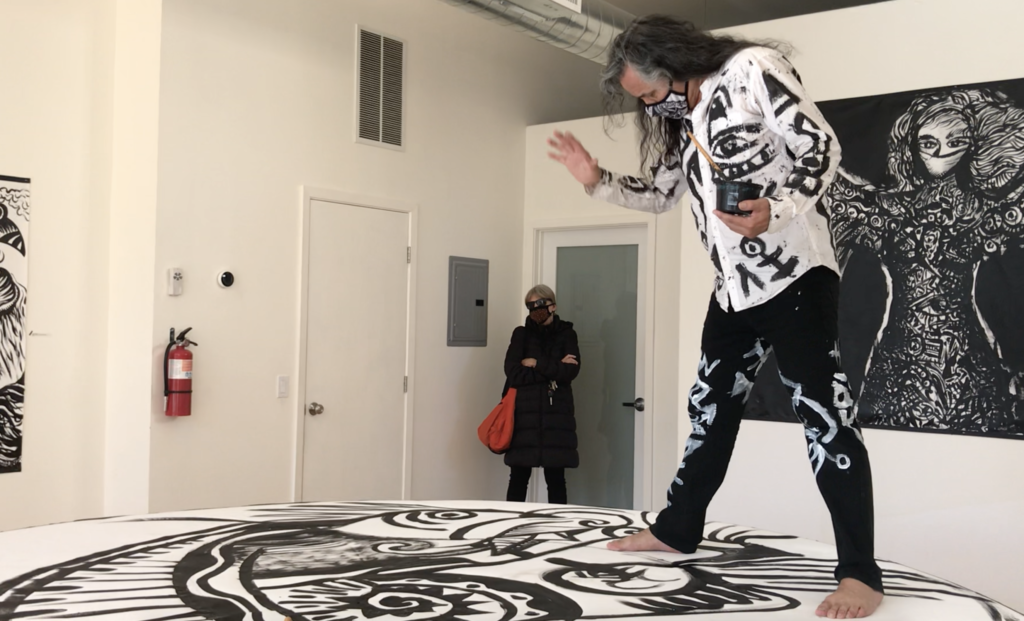 50 seconds time-lapse here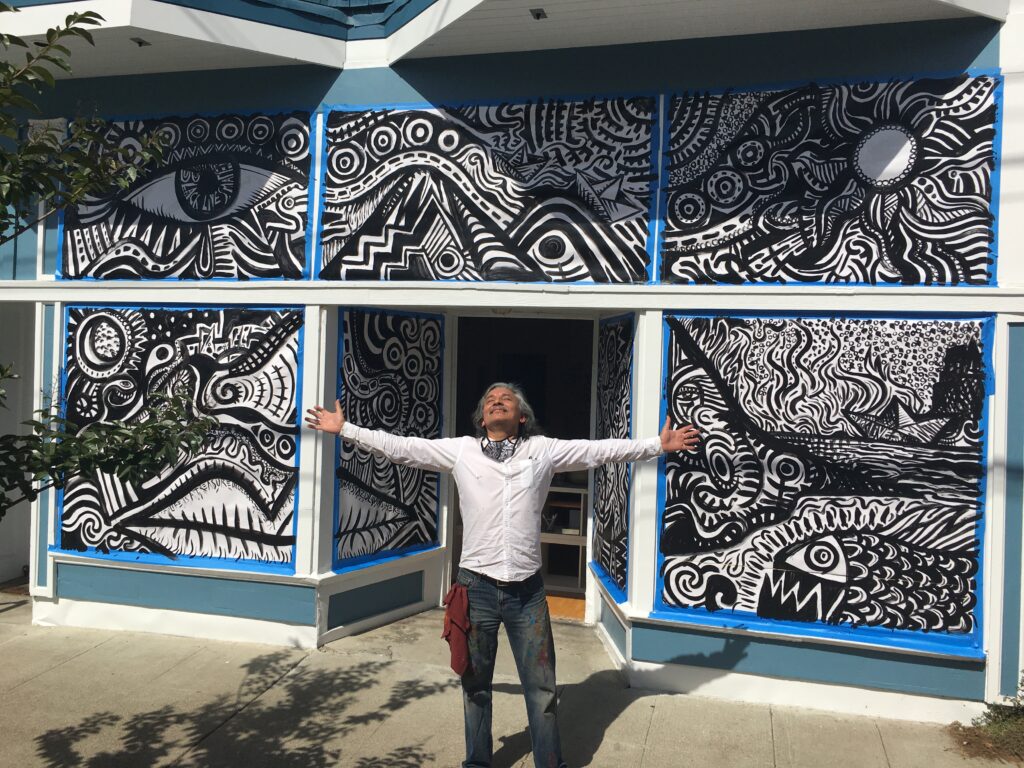 New Mural @ Machina Loci space in Berkeley. Life is a Treasure was a live paint improvisation, for 3 hours while Anais Azul played music on September 27th 2020.
Thanks to Carol Mancke for the commission to create this piece.
You can see 3 hours work in one minute time-lapse HERE
---
Also here the Adrian Time-lapse collection and more in his VIMEO page
---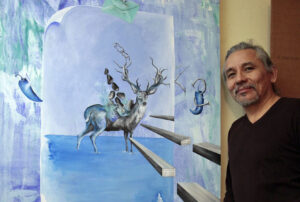 Adrian Arias is an American poet, visual artist and performer. He was born in Peru and has lived in the San Francisco Bay Area since 2000. Adrian reinvents animals, creates dream-based languages and codes, explores the absurd and the surreal visually and creates paintings in action and murals related to the pandemic and the social revolution that we are experiencing.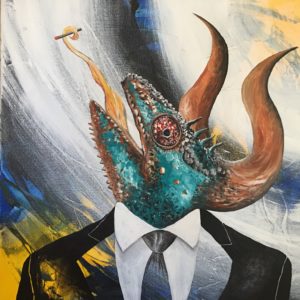 Adrian use movement as a form of art, as a choreographer and visual poet. Adrian is also a cultural promoter, art teacher and artivist actively working in the community, receiving commissions to create murals in the San Francisco Bay Area and other parts of California.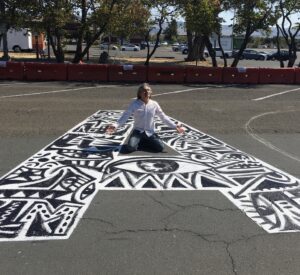 Letter A as part of Black Lives Matter on the asphalt of Petaluma Public Library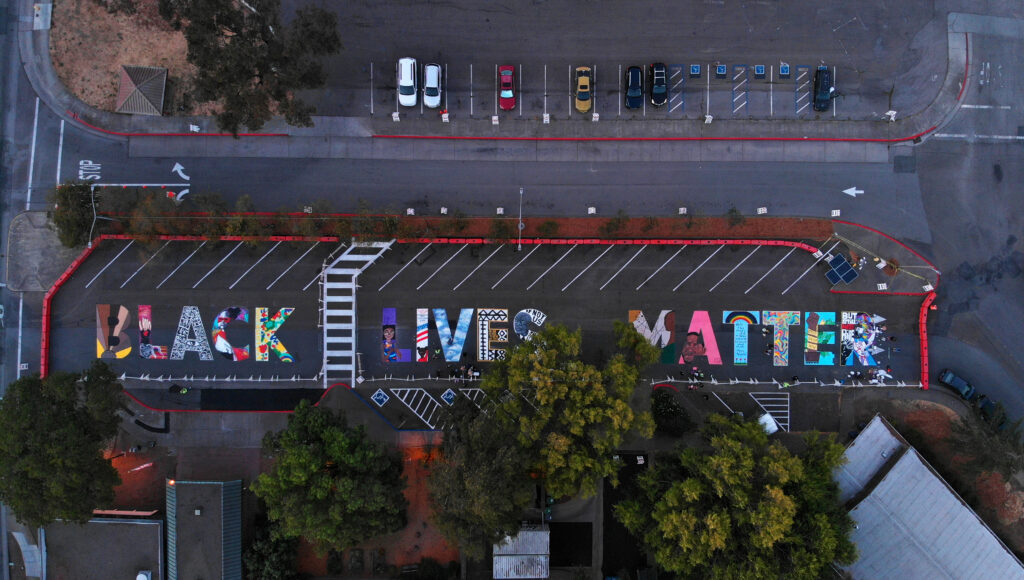 ---
"8:46" Altar installation for Day of the Dead at SOMARTS San Francisco, 2020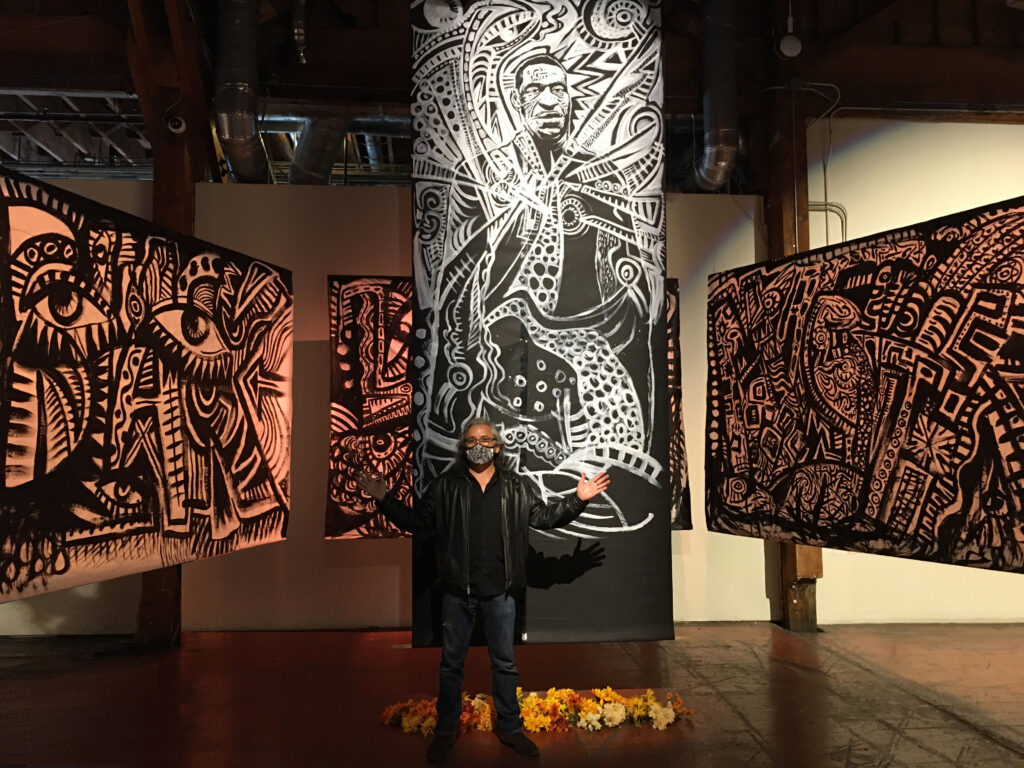 Mural commission in San Francisco's Chinatown.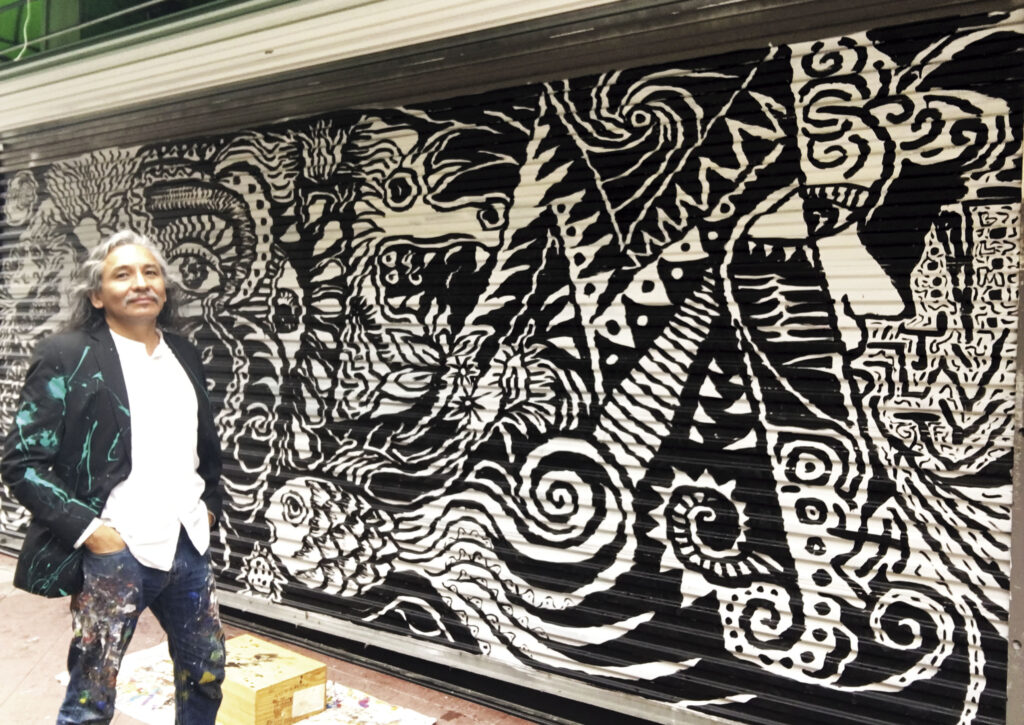 "Adrian Arias, the ever brilliantly inventive poet of the gesturing Word" Jack Hirschman, poet and activist, San Francisco Poet Laureate.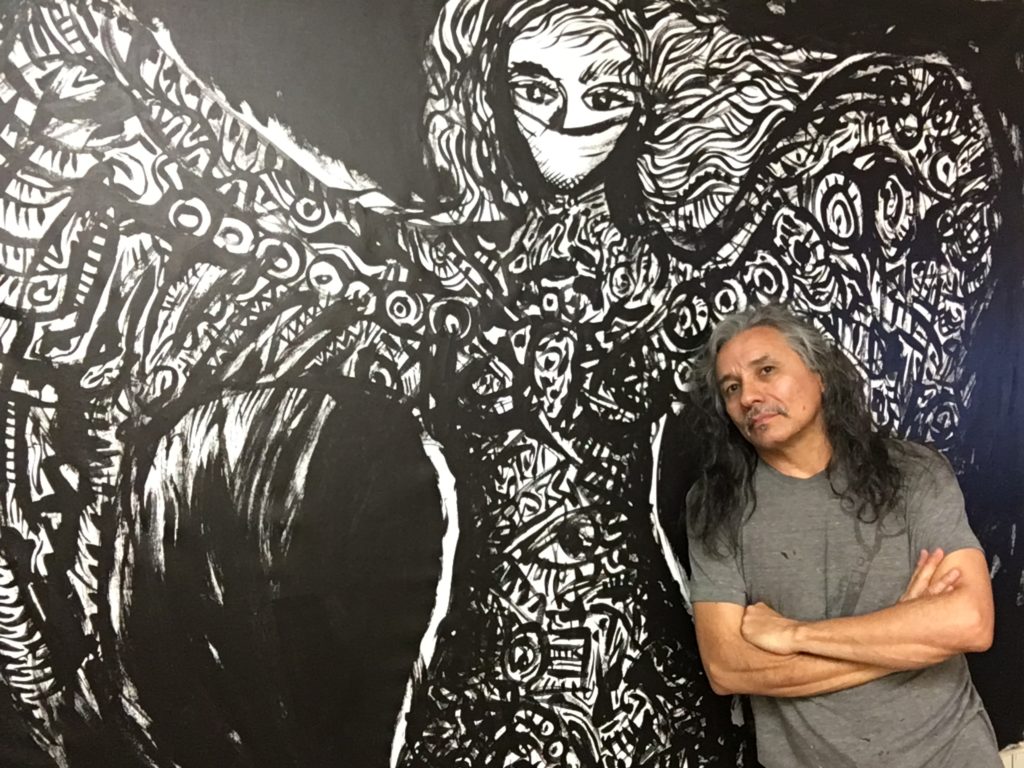 Here you can see his new series of painting in pandemic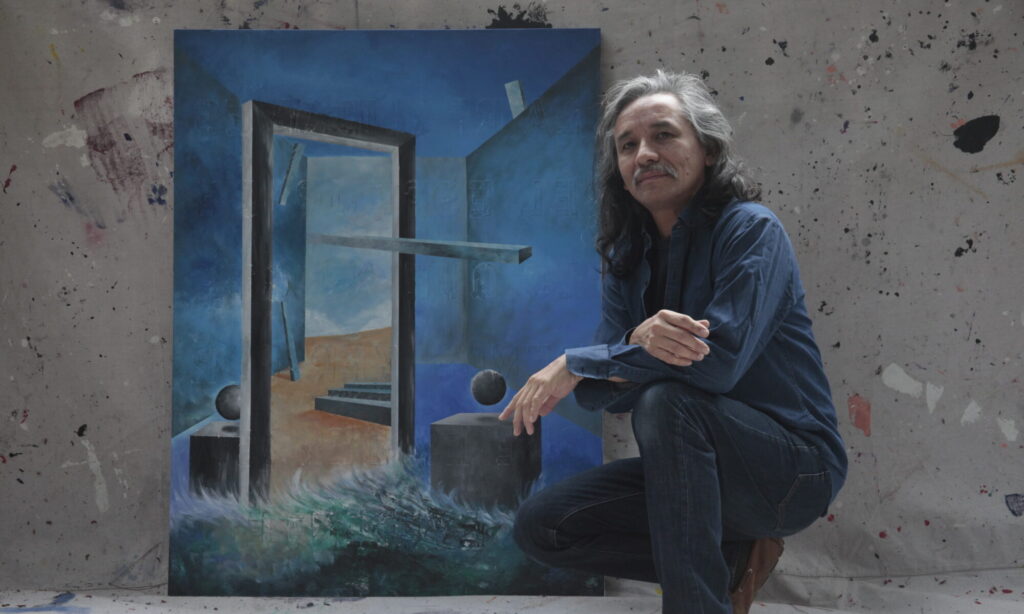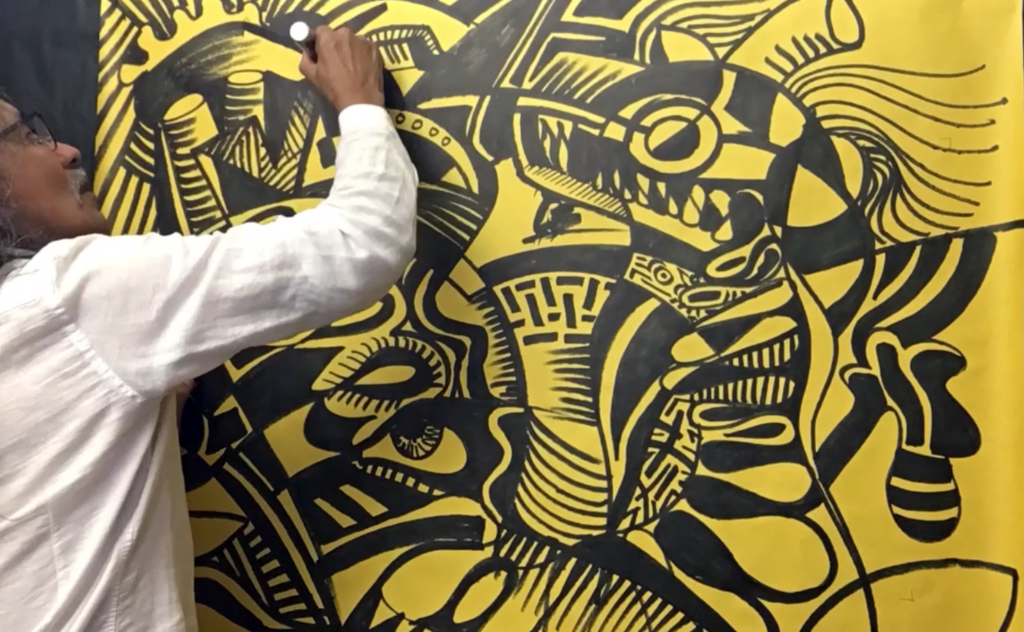 Here PANDEMIC CREATIONS in collaboration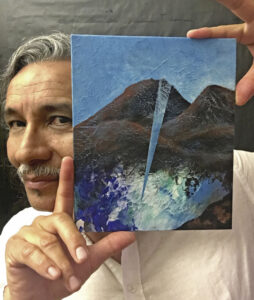 Here my STORE with small paintings
Adrian lives and works in Oakland, California.
---