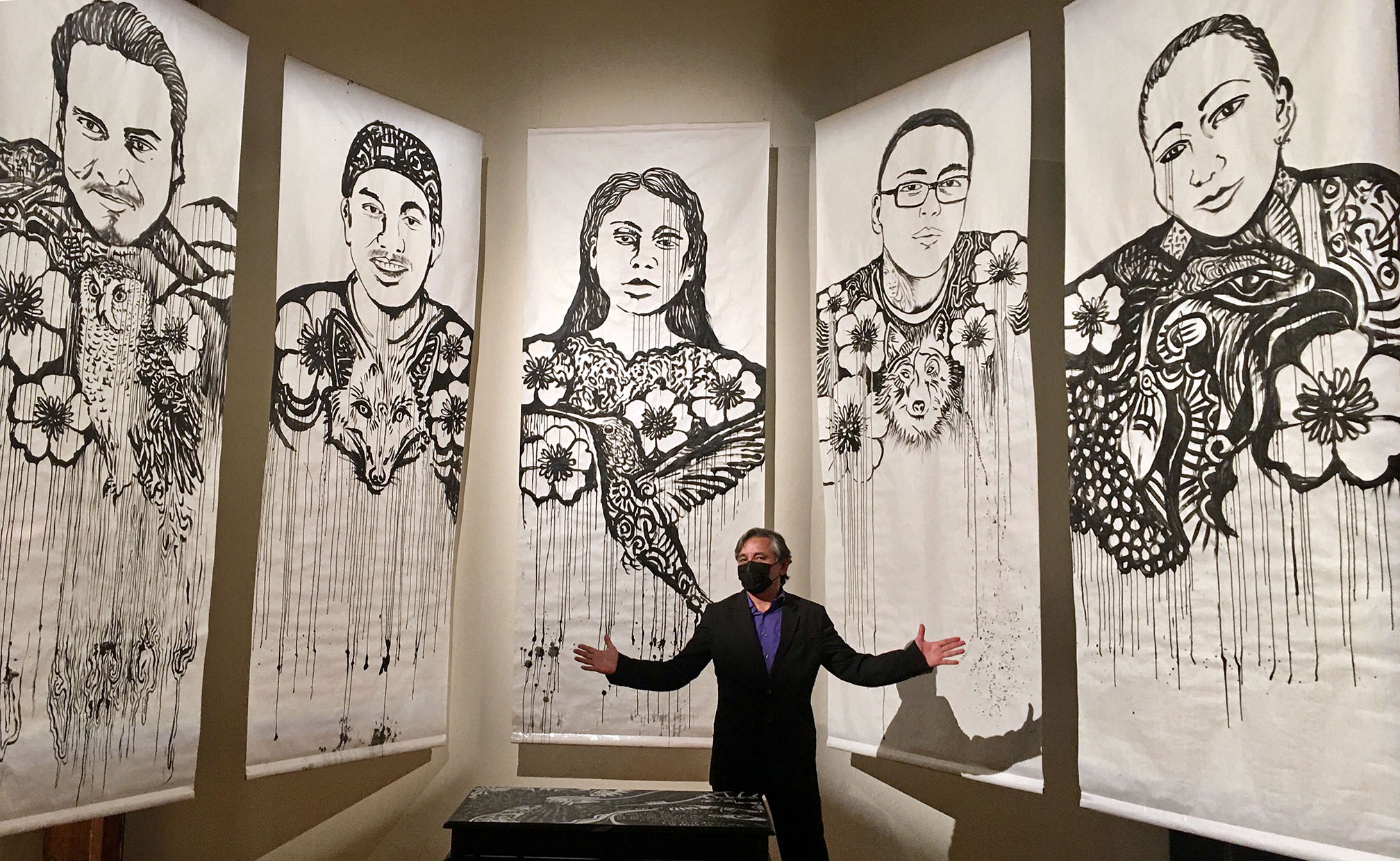 Altar @ SOMARts dedicated to 5 Latinx killed by police brutality
Adrian Arias
(American, born in Peru)
Is a visual artist, poet, performer, curator, activist, and cultural promoter, who brings together multidisciplinary artists to engage in community projects with messages of social justice, racial equality, climate change, peace, beauty, health, and hope in the San Francisco Bay Area.
Arias is one of the founders and creators of MAPP (Mission Arts Performance Project) and creator of festivals in the San Francisco Bay Area such as: VideoFest, Luna Negra, and ILLUSION shows.
Adrian uses his dreams as creative initiatives, which he makes come true in performances and community projects, such as his multimedia shows called DREAMS, or most recently his Tarot in Pandemic & Revolution, where 24 visual artists and 43 poets from the SF Bay Area have participated.
"Adrian Arias, continuously evolves images, colors, and feelings framed by the urge of creation itself. An inventive visual artist, of infinite forms and mediums." 
-Nina Serrano, poet and activist at KPFA Radio in Berkeley.
"Adrian Arias, the ever brilliantly inventive visual poet of the gesturing Word,"
– Jack Hirschman, Poet Laureate of San Francisco.
---
Adrian has been commissioned to do two murals in the Bay Area, one at Google's new Mountain View facility and another at the San Francisco tenderloin, sponsored by the Luggage Store Gallery and the Someland Foundation.
In collaboration with La Tania Baile Flamenco, has received a grant from the Kenneth Rainin Foundation to create a Multidisciplinary visual and dance piece in 2023.
---
Recent Art in Pandemic:
2022
December 2021 – January 2022: Mural "River to the Sky" honoring the memory of the Black Hawk Jazz Club on the corner of Turk and Hyde in San Francisco, with images of Miles Davies and Billie Holiday, and also honoring the Ohlone territory where this mural currently stands, and its underground waters.
2021
October: Day of the Dead at Somarts. Commission to create a big scale altar-ofrenda dedicated to 5 latinx killed by police brutality.
Day of the Dead at Mission Cultural Center. Commission to create altars-ofrendas for Yolanda Lopez, Jack Hirschman and Anna Halprin. Also a special collaboration with local artists cece Carpio, to create an altar dedicated to legendary local visual artist Hung Liu, at the lobby of the MCCLA.
Design and live painting action for FLACC Sii Agua Si event at Dance Mission Theatre, in collaboration with local artist Pancho Peskador.
Adrian was selected and commissioned, along with 12 other Bay Area artists, to create murals in the new Google Bay View new complex facilities.
August: Live painting at Magic Theatre celebration-inauguration of Sean San Jose as new director.
July: Live painting at Yerba Buena Gardens as part of LoCura Band, music concert.
June: Live painting mural "Love is Love", Lakeshore street, Oakland.
May:  Online Live painting at the program Little Lighthouse, hosted by Carly Marie de Mento.
April: Live painting with LoCura music at Oakland Brooklyn Basin Market.
March: Live painting video recording in Oakland and Berkeley, respecting COVID 19 protocols, for the video clip "Los besos/Kisses" by the group LoCura Music, San Francisco Bay Area.
February: Online collaboration: ¨More Love Now¨, dance by Shania Rasmussen, music by Darren Johnston, live painting by Adrian, streaming live on Feb. 14.
January: Live painting/ dance collaboration with Mimi Cezanne Stoll, Red Poppy Art House, SF.
2020 
December: Manos del Mundo/Hands of the World, open online call where I received 114 drawings of painted hands from around the world and after being digitized and enlarged on a large scale and display at the exterior windows of the MCCLA, SF.
Two Murals in Oakland, supporting local business, at Grand Ave. and Lakeshore Ave.
November: Three ephemeral murals in La Mission neighborhood commissioned by Dance Brigade, Dance Mission Theatre, for their events: Hemorrhage an Ablution of Hope, Incantation and Day of the Dead. San Francisco.
October: Altar dedicated to George Floyd, Dia de los Muertos in SOMArts, SF.
September: Commission to paint the exterior windows of the MachinaLoci space in Berkeley, CA
August: Selected from a group of 16 artists to paint BLACK LIVES MATTER on the asphalt in front of the Regional Library in Petaluma, CA.
July: Paseo Artistico, online event, painting live with Adrian´s poetry. In coordination with Brava Theatre, MCCLA and particular studios. Organized by Acción Latina, SF.
Commissioned to paint a mural in SF Chinatown, by Project Activism, SF.
June – October: 23 Minutes with Adrian, a live stream presentation, mixing live painting by Adrian with live poetry and music with special guests from the Bay Area and Latin America. Twelve sessions commissioned by the MCCLA, with: Alejandro Murguía, Aida Salazar, Roman Lujan, Yuyi Morales, Kata Miletich, Jorge Argueta, John santos, Yamily Yunis, Teresa Palazzo-Conti, Roger Santivañez, Mario Bellatin and Anais Azul.
May – December: Tarot in Pandemic & Revolution. Tarot in Pandemic and Revolution with a multi-cultural and multi-generational group of  24 visual artists and 43 poets from the S.F. Bay Area to participate in creating this deck.  It will be published in fall 2021.
April – July: "Amulets" was an original idea to be created live at the Albany Bulb, but it became an online idea and visual artists and musicians from the Bay Area were commissioned to make them.
Important Exhibitions and Art Residencies:
2020: Adrian Art in Pandemic, Red Poppy Art House, exhibition online.
2019: Artist-in-Residence at Benamil Art Center, Spain. In this residency Adrian created 50 pieces of art including paintings, installations and performances, Valencia, Spain.
"We Belong," collective art show of Latinx from the San Francisco Bay Area.
2018: "Dream Escapes", paintings, Red Poppy Art House.
2017: "Angels in Time of Dictatorship," Studio Grand, Oakland.
2016: Artist-in-Residence at FridaCalicos, collaborations with musicians, San Rafael, CA.
2015: "Beautiful Trash Collection", Group show, Art Museum of San Marcos, Lima, Peru.
2012: "Beautiful Trash: The Lost Library," Galería de La Raza, San Francisco, CA.
2010: Artist-in-Residence, Kimball Gallery, de Young Museum, San Francisco. Developing his project "Beautiful Trash", art and consciousness about the amount of plastic we consume every day, creating awareness about the "Garbage Patch" in the North Pacific Ocean.
2007: "Dra-Wings", Digital photography and drawings, Red Poppy Art House, SF.
2003-2020: "Day of the Dead" exhibits, SOMArts, San Francisco.
Between the years 1980-2000, Adrian was part of the duo Arias & Aragon in Lima, and are considered pioneers of Video Art and Multimedia shows in Peru, his country of origin.
Performances and collaborations
He is part of the Anna Halprin Performing Lab. under the direction of Anna Halprin and creating scores regularly with the group since 2013.
Between 2015-2019, Adrian created a series of collaborative and personal performances based on his dreams. Here a video link for the first one, Dream #0: https://vimeo.com/224787915
Prizes in visual arts
2020:  Grand Festival Award, Artistic Visionary at the Berkeley Film & Video Festival, for his music-video-art Analysis Paralysis
2017:  Award of Excellence in Visual Arts in San Francisco, Mission Cultural Center.
2009: Video-poem "Frida in the Mirror" selected @ 52nd SF International Film Festival and winner "Best of the Festival" at the Berkeley Film & Video Festival.
2008: Video-poem "Mi película empieza…" (Mi movie starts…) Finalist at Video Art Prize Ingenio 400, Madrid, Spain. And selected at the Art Festival BAC in Barcelona, Spain.
In poetry
Adrian received four major prizes in Argentina and Peru, with the following published books: "Hábitos" (Habits)(1984), "Sueños y Paranoias" (Dreams & Paranoia)(1996), "Castigo Divino" (Divine Punishment)(1998), and "26-10-2028" (2000).
His poem "Vitis Vinifera" won the Best poem at the Struga Poetry Evenings in Macedonia, 2009.
His new poetry book "Dictionary of confessions" will be published at the end of 2021 by Peisa publishing house in Peru.
Instagram: https://www.instagram.com/adrian_arias.sf/
Facebook: https://www.facebook.com/AdrianAriasPeru
Contact: (415)702-7248